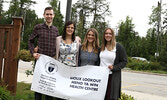 SLMHC welcomes new group of NOSM learners
Tim Brody - Editor
Four third-year Northern Ontario School of Medicine (NOSM) learners began their Comprehensive Community Clerkships (CCC) with Sioux Lookout Meno Ya Win Health Centre (SLMHC) last week.
The learners, Felicia Lotsios, Stephanie Stevens, Alison Lewis and Joseph Boyle, will spend the next eight months gaining experience at SLMHC and in northern communities' nursing stations.
Learning opportunities which will be presented to the four learners include: Primary Care with specialty exposure to General Surgery, Infectious Disease, Anesthesiology and Obstetrics. Learners will also get training in Anishinaabe Cultural Competency. Other components of the learners' experience will include engagement into the community, shadowing organizations such Out of the Cold Shelter, ORNGE, Land Ambulance and OPP.
The learners' orientation included an introduction to the many departments of SLMHC, Sioux Lookout First Nations Health Authority, the Hugh Allen Clinic, the Northern Appointment Clinic and the hostel.
The learners also had an opportunity to canoe to, and hike up Sioux Mountain and go on an aerial tour of the community courtesy of Slate Falls Airways.
Felicia Lotsios, who grew up in Ignace, said she came to Sioux Lookout after hearing about the great opportunity to learn rural and holistic medicine
SLMHC offered.
She shared she has a passion for the health needs of rural and remote areas, which has led her down the path of rural family medicine.
An avid outdoorsperson who enjoys fishing, hiking, and gardening, Lotsios also enjoys figure skating.
She added she is looking forward to getting to know Sioux Lookout and the surrounding communities.
For Joseph Boyle, who was born and raised in Thunder Bay, "It was an easy choice to have Sioux Lookout as a top pick for our clerkship. The feedback I heard from the students who have been here in previous years was overwhelmingly positive; knowing that my peers have had such an enjoyable time in Sioux Lookout was very encouraging. Beyond the learning, I really enjoy being outside in Northern Ontario, and Sioux Lookout is a beautiful place to do that!"
Boyle said he is considering all medical specialties, but is especially interested in the field of emergency medicine.
He shared, "When I'm not studying, I really enjoy being outside running, hiking, biking, rock climbing, canoeing, camping... anything really! My down time is often filled by reading books and playing guitar. I'd love to talk about what you're reading or listening to!"
"Thank you to everyone in Sioux Lookout for welcoming us! We are so appreciative of the time you will be spending with us and I am looking forward to learning from you all," he concluded.
Stephanie Stevens, also born and raised in Thunder Bay, shared, "Growing up in Northwestern Ontario, I understand that we face unique challenges when it comes to health care including access and the health disparities that exist due to the social determinants of health. As Sioux Lookout is often referred to as the "Hub of the North", I thought I could learn, from the various health care and allied health professionals, the ways in which I can address these disparities in my practice and make a difference for my future patients and the community I will serve. I will also be able to see the various health conditions that are prominent in our communities and why this prominence exists. I will also be able to gain the skills and knowledge needed to provide care to rural and remote communities that continually suffer disparities in the hopes that one day I can help improve the health of our Northwestern populations."
Stevens said she is drawn to family medicine, "What this may look like for me in the future as of now, I do not know; however, I wish to serve a community, a population of people, who are currently underserved. It is my hope that I can either work rurally/remotely, or provide services such as mental health and addictions as these areas are insufficient in many communities currently. I hope to practice in Northwestern Ontario and the focus of my practice will depend on the community needs."
Asked to share a bit about herself, she responded, "I am currently planning a wedding with my partner, Aaron of eight years. We have two cats named Wally and Zoey. Some of my hobbies include hiking, riding my bike, swimming, baking, watching Netflix (who doesn't!), doing puzzles, reading (especially mysteries and crime) and completing crosswords. I also love to watch sports including hockey and football (Fly Eagles Fly!)."
"I am looking forward to my time in Sioux Lookout! It will be my first time here and I am sure, like so many other students before me, I will fall in love with the community and the people who make it so welcoming," she said.
Alison Lewis shared, "I decided to come to Sioux Lookout because I have heard amazing things about everyone here, and I think the opportunity to fly to northern First Nations communities is very valuable. I was also born here but moved away when I was one, so it is neat to come back full circle."
Asked if she has a career path in mind in the field of medicine, she responded, "My current career path is aiming towards family medicine with possible additions in emergency or obstetrics. I am still exploring my options though, and am open to any new learning opportunity."
Asked about hobbies and interests she enjoys, she shared, "I love sports including hockey, skiing, softball, badminton, and recently this year mountain biking. I also really love music and play acoustic guitar and sing!"
"I am very excited for these eight months in Sioux Lookout and am looking forward to learning lots and meeting more of the community,"
she concluded.
Heather Lee, SLMHC President and CEO, welcomed the new NOSM students, commenting, "Sioux Lookout Meno Ya Win Health Centre has happily hosted NOSM students for many years, and we look forward to hosting our newest students in the organization. I'd like to wish the students a warm welcome to both the Sioux Lookout Meno Ya Win Health Centre and the community of Sioux Lookout. We hope you enjoy the opportunity to experience hands-on learning at our facility and the beautiful surroundings we have locally in our community."
SLMHC has been hosting NOSM learners since 2007.