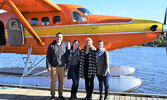 SLMHC welcomes new batch of NOSM students
Since 2007, the Sioux Lookout Meno Ya Win Health Centre (SLMHC) has been hosting third-year Northern Ontario School of Medicine (NOSM) students, in groups of four, in partnership with the school.
The students spend eight months getting hands-on experience at SLMHC and in northern communities at nursing stations.
This latest group of students includes from left: Jason Beardy, Chelsea Kubinec, Dayna Ingves, and Nicole Valiquette.
The group enjoyed a float plane ride, courtesy of Slate Falls Airways, on Sept. 6 followed by a dinner at Foxy's Dining Room at Anderson's Lodge.