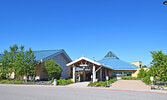 SLMHC moves to new patient-centered, team-based model of care
Tim Brody -
Editor
Sioux Lookout Meno Ya Win Health Centre (SLMHC) has moved to a new patient-centred, team-based model of care.
The new approach to inpatient care was implemented on June 15 at the 60-bed hospital with what the health centre says is a, "goal of even better patient care and a more collaborative health team environment."
"We've always encouraged collaboration and patient-focused care, but this new model of care means that we're trying something a little different so that each patient admitted here will be served by an interdisciplinary team," explained Cynthia Dwyer, Director of Patient Care Services at SLMHC, in a July 5 news release issued by the health centre.
According to SLMHC, the structure of the interdisciplinary team is made up of a Registered Nurse, Registered Practical Nurse, Personal Support Worker/Personal Care Attendant and Interpreter.
"Each patient is assigned to a team, and each team works together to conduct patient handovers," Dwyer explained. "The teams collaborate throughout their entire shift to provide exceptional care and support each other to provide coverage, if a member is away from the unit. This means if someone steps away for a break or is busy with another patient, there will be no gap in care and we are better equipped to provide individualized and comprehensive care to each and every patient."
"COVID-19 has impacted health services and hospitals across Ontario, and here at SLMHC this new model of care comes at a time when innovation is imperative," SLMHC stated in the news release.
"Many health care organizations across Ontario are experiencing staff shortages, and we are no exception. Our team is working hard to recruit and retain staff; and the new model of care is one that staff see as more supportive," said Heather Lee, President and CEO of SLMHC.
"Additionally, for new employees this allows exposure to more experienced staff, which means new staff are better supported and gain confidence and new skills," Dwyer added. "When it comes down to it, the strengths of all health care professionals will come together to provide the best care possible for our patients."
SLMHC says the Team Model of Care is a transition for those working on the inpatient unit. "Historically, a nurse would be assigned multiple patients to care for during their shift. The new model provides a more supportive work environment for our staff and is intended to provide a better patient experience. We will continue to evaluate the model and will work closely with team members and physicians, along with the patient and their family to get feedback and make adjustments as needed," SLMHC advised, adding that one of the intended results of the team model of care approach is that each patient is getting more face-to-face time with their healthcare team.
"We've heard a lot of positive feedback already, just a few weeks in, notably that there are less call bells and a faster response to call bells that do ring," Dwyer shared, explaining that research shows that when more time is spent with a patient that call bells ring less since the patient already has their needs met.
"As a physician, I recognize the vital importance of both teamwork and mentorship," added Dr. Laurel Laakso, Interim Chief of Staff at SLMHC. "Working collaboratively with other healthcare providers to provide high quality patient care is essential to what we do; this model of care encourages multidisciplinary healthcare providers to work together and feel supported, and that has a huge impact on morale and patient care. The value of mentorship facilitated by this model also cannot be overstated. Several physicians (including a former nurse) have approached me stating they have already noticed a positive difference on the floor, so that is very promising going forward."
"We thank all of our Team Model of Care members, staff, and physicians as we work with this transition to the Patient-Centered Team Model of Care, and we recognize that we are all here to work together to improve the health outcomes of the patients we serve," Lee added. "As our goal is Excellence Every Time, we are confident this team model of care will improve patient and staff experience, which connects directly to our mission, vision and values, and strategic plan."
"SLMHC's current five-year strategic plan outlines seven pillars, all connected to the Seven Sacred Grandfather Teachings. The new model of care connects directly to many pillars but especially Gwayakwaadiziwin (Honesty) and Saagi'iwewin (Love)," said Kathy Loon, SLMHC's Executive Lead of Indigenous Collaboration & Relations. "With this model of care, we are connecting to the pillar entitled Best Service, with the goal of providing exceptional, culturally-appropriate care, and the pillars of Best People and Innovation and Partnerships. Each team has an Interpreter (Wiichi'iwe- Patient Supports worker), working alongside our nurses and personal support workers to meet the health care needs of each patient. We think this model of care is another step in the right direction here at SLMHC and we hope our patients will see the positive difference here."
"A lot of the changes in this new team model approach are behind-the-scenes, so patients might not notice too many changes," Dwyer explained, adding. "The most obvious change will be that there will be some colour-coding to identify team members, and patients may also notice that their care is more streamlined. Our team puts patients first, so the shift to the new model is about ensuring patient care continues to be our number one priority."
"This new model, coupled with SLMHC's journey to becoming a Best Practice Spotlight Organization, is something I think really shows our commitment to the pillar of innovation and our vision to be a centre of excellence," Lee added.
The health centre shared that, "SLMHC staff always want to know how we're doing and where we can improve. Those coming to SLMHC for any services, whether as an inpatient or accessing our outpatient programs and services, can email or call our Director of Patient Experience and provide feedback, which will be responded to within five business days. Learn more about patient feedback, as well as our client experience surveys, by visiting slmhc.on.ca/feedback. SLMHC also has its current five-year strategic plan available to view online at slmhc.on.ca/about."