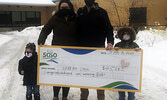 SLMHC Foundation's second 50/50 Charity Draw prize more than doubles first draw prize
Reeti Meenakshi Rohilla -
Staff Writer
An auspicious start to 2021 for Sioux Lookout resident Jeremy Caul and his family. Caul was the lucky winner of the Sioux Lookout Meno Ya Win Health Centre (SLMHC) Foundation's 50/50 Charity Draw for the month of January. The January draw generated $45,282 for the foundation. Caul won the same amount.
Caul shared, "I spent most of the time in shock as I compared my ticket number to the email and I started reaching out to family because I just didn't know what else to do." He said that they had been waiting to be able to buy a home. Caul added, "It means a lot to our family in being able to plant some roots here in Sioux Lookout. So, we're really excited." Caul's wife, Jaime Caul said, "It is important for us to support local too and we have both worked here. Jeremy worked here for a couple of years, so it's just nice to be able to support something so important to our community."
SLMHC Foundation Treasurer Rita Demetzer said, "We're extremely thrilled that people are starting to realize that we're here…they are certainly interested in winning a prize, but they are interested in supporting the health centre and the foundation as well for equipment needs." She said that she felt happy and excited, watching the fundraiser grow, and looks forward to its further growth. She hopes to see an increase in interest in the monthly draws and in the health centre foundation.
Demetzer said, "Because of COVID, we had to cancel our 10th anniversary at the Skip to Equip curling classic, which is always an excellent fundraiser. That had to be cancelled. We are certainly hoping that we will be able to have that event in November this year. But we are still nervous about being able to have the golf tournament in June. So, the 50/50 was an alternative fundraiser for those events." The Foundation provides funds for equipment, staff training and capital building projects to the Sioux Lookout Meno Ya Win Health Centre.
Demetzer shared that there are monthly draws running until November when the license for the lottery draw expires. Depending on how these draws go, Demetzer said that they are hoping to continue to conduct the draws, along with their other in-person events in the future.
SLMHC Foundation's first monthly 50/50 draw in December brought in $21,268 for the Foundation. Winner Rebecca Kiepek also received the same amount.
The next draw will take place on February 10. People can find out more and get their tickets at www.slmhc.on.ca/foundationdraw.