SLMHC Foundation's 24th Annual Tree of Hearts Campaign underway
Tim Brody - Editor
Sioux Lookout Meno Ya Win Health Centre (SLMHC) Foundation's 24th Annual Tree of Hearts Campaign is underway.
Lights can be purchased for $10 each in memory or in honour of someone special to you.
Lights can be purchased at Cheers!, The Hub, Red Brick Cafe, McTaggarts, Fresh Market Foods, and the Foundation Office. Lights can also be purchased online at https://foundation.slmhc.on.ca/.
Lights purchased will decorate trees located at Centennial Park, William A. "Bill" George Extended Care, and SLMHC. The lights will be lit from Feb. 14 to 21.
The campaign is being sponsored by the Sioux Lookout Meno Ya Win Health Centre and the Municipality of Sioux Lookout. All proceeds go to the Sioux Lookout Meno Ya Win Health Centre Foundation, and assists in purchasing needed equipment for the health centre.
Melissa Slade, SLMHC Foundation Donor Relations/Operations Coordinator, shared, "In the past, and this year again, it (donations) will be going to much needed equipment and updates of equipment that is in the hospital. Recently the money raised through the Skip to Equip went to the lab for a new hematology analyzer, and in the past donations from this particular campaign along with others have gone to purchase a new mammogram unit, additional ultrasound machine that was required for diagnostic imaging, those are just great example of where it is that the money goes and the things that it buys to have our healthcare where we need it, here in town."
SLMHC does not receive government funding for the purchase or replacement of hospital equipment.
Official donation receipts for income tax purposes will be issued for donations of $10.00 or more.
A listing of whom the lights are being purchased in memory of or in honour of will be published by the Foundation. Lights need to be purchased by Feb. 14 to ensure those names make the list.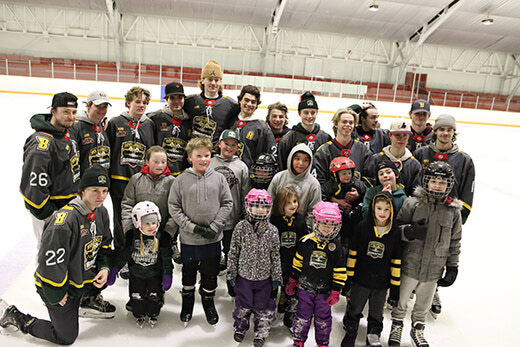 Wednesday, February 8, 2023
When their weekend series with the Red Lake Miners was postponed due to circumstances beyond their control, the Sioux Lookout Bombers took the opportunity to host some fun events for their fans...