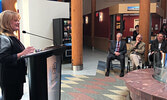 SLMHC facing challenges due to lack of long-term care beds
Tim Brody - Editor
The Sioux Lookout Meno Ya Win Health Centre (SLMHC) is operating at more than 100 per cent capacity due to a lack of long-term care beds in the region.
On Nov. 7, the health centre shared in a media release that it is operating under challenging conditions due to increasing volumes of patients and demands for service.
"We are a 60-bed acute care hospital with a 20-bed Elderly Capital Assistance Program (ELDCAP) extended care facility. We're working as best we can to handle our region's demand that far exceeds our current capacity. Our patients expect nothing less than 'excellence every time' and we all are working very hard to provide healthcare services they expect, but a lack of long-term beds presents an ongoing struggle to meet that standard," said Heather Lee, CEO and President of SLMHC.
According to the health centre, general access to acute care inpatient beds at SLMHC is often delayed, due in part to an increase in patients who require long-term care but do not have access to these specific services. "The congestion and high levels of occupancy are creating the need to provide hallway healthcare," the health centre stated.
"On days where we have line-ups for emergency services, we see longer wait-times which affect our patients. Our staff are trying to troubleshoot to meet demands, and this takes away the time that should be focused on the patient and their healthcare needs," Lee explains.
"The need for more long-term care beds continues to rise and we continue to feel the pressure. This isn't a problem for the future, this is immediately affecting every resident of Sioux Lookout and our northern communities who come here for healthcare services," Lee adds.
The health centre is hopeful the provincial government's commitment to the allocation of 76 new long-term care beds for SLMHC will move forward as quickly as possible. "These 76 beds will complement the 20 beds at William George Extended Care and establish a 96-bed facility. Lee continues to advocate for the region and has been in discussions with the government," SLMHC shared.
On May 4, 2018, The Ontario Ministry of Health and Long-Term Care announced in Sioux Lookout that SLMHC would receive 76 new long-term care beds.
A June provincial election then saw a change in government.
"There is no update on funding for this new facility," as of Nov. 7, SLMHC informed.
Kiiwetinoong MPP Sol Mamakwa shared on Twitter, "Since amalgamation of provincial & federal hospitals in 1997, residents in area were told health services would improve. Yes, there were some improvements. Just because we're a small community does not mean we shouldn't get proper funding at Meno Ya Win."
The health centre shared, "Before SLMHC opened its doors in 2010, there was already a plan in place to build long-term care facilities physically connected to the hospital.
"Presently, SLMHC operates the William "Bill" George Extended Care—a 20-bed, long-term care facility. This allows for one bed to every 1,500 people in the northern region, which is well below the provincial average. With the addition of 76 new beds, the ratio will be much better with one bed to every 312 people.
"There are approximately 30,000 people residing in the northern region, including the Nishnawbe Aski Nation northern communities, the Grand Council Treaty #3 community of Lac Seul First Nation, as well as Hudson, Pickle Lake, Savant Lake, and Sioux Lookout."
Lee and the SLMHC Board of Directors are thanking health centre management and staff for, "continuing to provide high-quality care, and in asking for the public's understanding."
"The SLMHC board is very appreciative and thankful for all the additional work and commitment the hospital staff has been doing during this challenging time. We believe that this challenge will not be resolved until the provincial government acts on their commitment of 76 additional long-term care beds for the 30,000 people who access services from SLMHC," says Sadie Maxwell, chair of the SLMHC Board of Directors.
Lee added that for patients in emergency, and throughout the facility, long wait times can be frustrating, further stating she wanted to assure patients that everything is being done to ensure timely and quality care.
"It is important for our leaders and community members to continue their great work and voice the urgency of this initiative with the new government," Lee concluded.