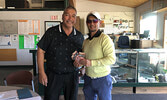 SLGCC challenges golfers with Iron Man event
Reeti Meenakshi Rohilla - Staff Writer
The Sioux Lookout Golf and Curling Club (SLGCC) ended the summer season with Iron Man, one of the sport's toughest challenges, on September 19. With 18 teams participating, it was a close competition with George Sakchekapo and Gerson Agustin's team winning first place.
Agustin, who organized the Iron Man, said the event gets its name from its endurance element, challenging players to golf 27 holes in one day.
"There are three different formats. The better-ball format, the alternate-shot format and the scramble format with nine holes, in a two-person team," he added.
Agustin mentioned that COVID guidelines, which include social distancing and capacity of the clubhouse, were adhered to.
Tony Anderson, who golfed in the Iron Man, said, "It was a great event. Well organized. Lots of fun. I've done it before and it's an enjoyable event to do. This is a great way to end the season and hopefully we can get another event or two in before winter."
"I think today was a success. We received great reviews from the participants that they had a great time. We had 18 teams with two flights. The weather cooperated as well, which made it a lot more enjoyable. It's been a great summer for all golfers in Sioux Lookout despite these trying times with COVID-19. The golf course was a very busy place. Hopefully the club can run one more event before the winter comes and make the Iron Man annual," Agustin concluded.