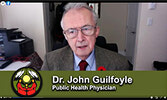 SLFNHA Public Health Physician provides updates on COVID-19 cases in Lac Seul, North Caribou Lake and Deer Lake First Nations
Tim Brody - Editor
Sioux Lookout First Nations Health Authority (SLFNHA) is advising that a positive case of COVID-19 has been reported in Lac Seul First Nation.
SLFNHA Public Health Physician Dr. John Guilfoyle advised in a video update on Dec. 6 that the individual is isolating at home and is doing well.
Guilfoyle said case and contact management has started and the SLFNHA Preventing Infection Diseases (PID) team continues to work closely with community health staff to prevent the spread of infection.
"We continue to encourage adhering to public health measures. This includes: physical distancing, handwashing, wearing masks/face covering in public where physical distancing cannot be maintained, staying in our social bubbles as much as possible, and avoiding unnecessary travel. We now emphasize the importance of avoiding the 3 Cs: close contact, crowds and closed spaces.
"If you have any community member with symptoms that could be caused by COVID-19, please contact your nursing station to be assessed as a matter of urgency," SLFNHA advised.
Guilfoyle urged, "If you don't have to leave your communities, please don't. If you do have to for medical reasons, of course you do, please do that. If you need to go out, do, but if you don't, please stay at home because we are now seeing, as we've seen in Winnipeg, and in Thunder Bay, and now even in Kenora, there's been quite a significant uptick in viral activity."
In a Dec. 2 update, Guilfoyle said of positive COVID-19 cases which had developed in North Caribou Lake First Nation and Deer Lake First Nation, that in both circumstances, the individuals were isolating and doing well.
"We've done initial testing on the closest contacts and all those results, to date, are negative," he shared.
On Dec. 4, the provincial government announced that the Thunder Bay District Health Unit would be moved to the Orange – Restrict level of their COVID Response Framework, as of Dec. 7 at 12:01 a.m.
As of Dec. 7, the Northwestern Health Unit was reporting 12 active cases in its catchment area, 10 in the Kenora region, one in the Dryden / Red Lake region, and one in the Sioux Lookout region.