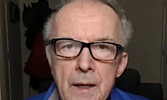 SLFNHA public health physician addresses current active COVID-19 cases, vaccination efforts
Tim Brody -
Editor
Dr. John Guilfoyle, Public Health Physician for Sioux Lookout First Nations Health Authority (SLFNHA), said he would like to see COVID-19 cases in SLFNHA communities decrease and COVID-19 vaccine acceptance rates increase.
As of March 19, SLFNHA was reporting 26 active COVID-19 cases spread over nine communities they serve.
"I think that what we're seeing in the communities around us and across Canada is that there is still a very worrisome amount of cases continuing… we're still not seeing the kind of decrease in activity that we would like to see. We're still really in this wave," he said.
"The commonest way the virus gets into our communities is through travel. People coming from areas where there is much more viral activity, like the hubs around us: Winnipeg, Thunder Bay, and from southern Ontario. This one of the problems, people can be infected and have no symptoms. So they come into the communities and so that's where we find the cases," he said. "What we do know is that the communities are putting in place requirements, a lot of them anyway, that you need to be tested when you come into the community and they re-test five to seven days later, because if you picked it up on travel, you won't be positive the first day it's done, but five to seven days later, you will, and it gives us a double opportunity to make sure that the virus doesn't sneak into the community, so that has been an important piece of our strategy around this, to help create almost a firewall between outside of the communities and the community, because the communities are so vulnerable because really of the housing situation, isolating effectively, when you don't have adequate housing, is impossible."
Guilfoyle said one of the most important things people can do is to avoid non-essential travel. "Sticking to your social bubble is important and to avoid crowds, close contact and enclosed spaces. Those are all important things. When one can't adopt the physical measures, masking is important, and washing (hands), again, has to be emphasized, but masking is very important when we cannot keep that physical distance from people who are not in our social bubble. That has to continue."
Guilfoyle continued, "Number two is vaccination. The importance of the vaccine is it protects you. It prevents you from getting a serious disease. It protects your loved ones because it makes it less likely that you will infect your family members because you are less likely to carry the virus if you're immunized. The more of us who are immunized, it slows the spread and that will help us end the pandemic. What we're looking for is to see this virus stop spreading and start dropping away. That's what we're looking for. That's when we know we will be able to say 'we're ahead of this' and until we see that, we have to, even if we're vaccinated, we have to keep to the physical measures, the public health measures, that's so important," he said.
"In terms of Operation Remote Immunity, we've been very appreciative of the work that's been done, both at community level and with Ornge, in partnership with SLFNHA, to help make sure that we can have the most effective program possible, because the Operation Remote Immunity is only the first part of what will be an immunization program," Guilfoyle said. "This immunization is going to take literally months, if not years to roll out because we still don't have vaccine for the children and those under 18 and of course they represent a very large portion, up to 40 per cent of our population. To get to the kind of immunity level we need, we need to immunize our younger people. Having said that, in the eligible population that we've had, to date, we've had over 9000 individuals in the communities accept the first shot of the vaccine, because we're still rolling out the second shot, which represents a little over 60 per cent, which is good. We're very pleased with that." Guilfoyle said he would like to see that number increase, "And that's something we're going to work on, because we're hoping we will be able to continue to offer vaccine to those who haven't taken it yet and to those who are turning 18 and are eligible, so we've had a very, very good start and I hope we can build on that. The downside of it is that in some communities, it has been low, and we're going to particularly work with those communities to see if we can increase the numbers who would accept the vaccine in those communities."