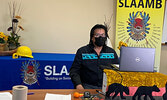 SLAAMB presents its Carpentry Apprenticeship Training Program at First Nations Housing Conference
Reeti Meenakshi Rohilla -
Staff Writer
The Sioux Lookout Area Aboriginal Management Board (SLAAMB) delivered a virtual presentation regarding their Carpentry Apprenticeship Training Program at the annual First Nations Housing Conference (FNHC) last week.
SLAAMB Assistant Coordinator and Project Manager for the Carpentry Apprenticeship Training Program Ziggy Beardy shared, "The reason why we gave a presentation was we were very unique. I think we were about the only people that have this type of training program. It is very innovative." SLAAMB was one of 17 presenters at this year's housing conference.
Beardy said that such programs are uncommon due to their requirement for a journeyman, with certification to lead the younger generation with skills of the trade. He shared that the demand for trades training for young people in the northern communities led to the formation of this program. "We want to train these young people to be skilled in building houses. And once they are done with their three years or four years, they challenge the exam and pass, can then go back to their communities and train other young people to be able to build homes on their reserves as well."
Under the apprenticeship program, an individual is required to complete 7200 hours of training before they get their designation. The program commenced in 2018 with a plan to have all program facilities in the same place in Hudson. The program has since had its trainees independently build, and occupy, two residential duplexes, to enable a more effective delivery of their training.
FNHC's website states that it is the largest event in Canada by First Nations for First Nations. The conference, conducted out of Thunder Bay, is dedicated not only to First Nations housing professionals, but also other stakeholders involved in First Nations Housing, including industry, government, leadership and homeowners.
The First Nations Housing Conference' website states that it is an event for First Nations housing professionals, presented by First Nations Housing Community.
Each year, delegates come together from across the country to gain valuable insights, learn and develop skills, interact with stakeholders and network in an effort to build their communities for current and future generations.
Beardy shared that some past conferences attended by the carpentry program trainees and SLAAMB representatives have provided valuable input. He said, "There were just a whole lot of workshops that we attended and we really got good first-hand knowledge of the carpentry trades when we came back." He added, "It really has benefited our area and I recommend that for whoever wants to go and bring back a wealth of knowledge to their respective communities, especially to their housing programs."
Beardy said that in past years, he has returned from the conference with a stack of business cards of potential suppliers for First Nation housing initiatives. "It's kind of a one stop location where you get to meet different companies and they can offer you deals."
Beardy said, "We've had positive reviews, comments, made about our program." He added that they plan to build another structure this fall. "They want to build a commercial building this time. These two buildings that we built were residential, this next building is, we're moving up, it's going to be a commercial building So, the trainees are going to really be experienced on how to construct larger buildings, other than houses."
Beardy shared that the trainees for the carpentry program are currently working on demolishing an old garage across from the duplex buildings, with plans to build the commercial structure in place of it, this fall.
Beardy said that the he looks forward to the addition of a trades shop and storage building, two portable classrooms, and a green house, to their Hudson site. "We wanted everything to be in Hudson, like the accommodations, the classrooms, and the greenhouse," he added.
The program currently leases the East Side Cafe building in Hudson to conduct its classes. Beardy said that portable classrooms are a quick and economical option that will give them a permanent space for future programming, hopefully by next year. "We are planning on other training programs like electricians and plumbers training programs. So, those shops that will be adjacent to the storage sheds will be used for that purpose, starting this fall." He added, "We want to promote gardening up north, so people can grow their own vegetables and fruits. That's the reason why we want to have that greenhouse here. So, those people that come down to get trained will learn how to develop their own greenhouses in their communities." Beardy said that work is projected to begin soon for the construction of the greenhouse.
"We are just proud of what the students have accomplished. When we look at those two buildings, it was young people that built those, and that's a great achievement, makes us proud. We look forward to what's ahead in the years to come," concluded Beardy.