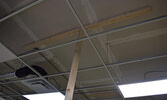 SLAAMB office closed indefinitely
Jesse Bonello - Staff Writer
Sioux Lookout Area Aboriginal Management Board's (SLAAMB) office, located at 80 Front Street, has been closed indefinitely due to a drop in their roof.
Executive SLAAMB staff members called in Keewatin-Aski Ltd., who originally designed the building, and, upon further inspection, were advised to evacuate the office and close it until further assessments are made.
The office was officially closed on Feb. 13 and SLAAMB is currently waiting for further inspection and evaluation by engineers. When the building will reopen hasn't been determined at this time.
In the meantime, wooden support posts have been installed throughout the office to hold the weight of the roof in the event of further dropping.