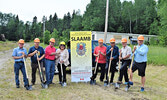 SLAAMB breaks ground on future residency, training facilities in Hudson
Jesse Bonello - Staff Writer
The Sioux Lookout Area Aboriginal Management Board (SLAAMB) announced the purchase of a new property in Hudson, which will feature new trainee residency and training facilities in the near future, during a groundbreaking ceremony on July 9.
"We've been involved in looking at various ways and means of trying to accommodate our students. We decided that this was the solution to our long-term needs. I know it's going to pay off in the days ahead. We plan to start building before the cold weather comes so at least we'll have structures, and during the winter we'll have them work on the insides. Hopefully by next spring you'll see buildings here," said Ziggy Beardy, SLAAMB assistant coordinator.
The groundbreaking ceremony featured remarks from Kenora MP Bob Nault, Sioux Lookout Mayor Doug Lawrance, Ward One (Hudson) Councillor Donald Fenelon, and SLAAMB coordinator Mary Tait.
"I often think about our young people, our trainees, that we bring out. We uproot them from their home communities to bring them to Sioux Lookout for training, and we struggle to find places for them… We have plans for this place, and I hope you share with me that same vision I have. It's not for me, it's not for the board, but it's for communities and it's for our youth in our communities," said Tait.
"I've seen SLAAMB grow from a very small organization over the years to be a very successful organization working to try and find opportunities and make those opportunities come alive. I came today because I wanted to let you know that our government very much feels the same way that training is fundamental, and we have to have the resources, the people, prepared and ready to be successful. That means we have to put the financial resources in play… I just want to congratulate SLAAMB, and I look forward to working with them and looking at the new facilities that are here," shared Nault.
"Our role as Hub for the North is clear. We have challenges, we have lacks, and we're working to try and get more accommodations. It's just an ongoing challenge for us, and you are part of the solution. We thank you, and we congratulate you," said Lawrance.
"Hopefully, and I'm sure it will, but, with the help of the government, Sioux Lookout, and Hudson people, it will expand and be helpful to the residents of Hudson. I welcome SLAAMB with open arms," said Fenelon.
The new property is located at 8 First Avenue in Hudson. The property was a former home to a vehicle mechanic garage. SLAAMB hired a contractor to clean the property of old debris and, following the last of the cleaning, they plan on starting the construction process.
"We hired a contractor to take away a lot of debris and old vehicles. This used to be a garage, so there were a lot of vehicles left behind. Starting right now we're cleaning and, right after that, we'll do landscaping and digging," said Beardy.
Beardy also shared that they plan on renovating the car garage that is on site so that training can then take place both on site at the residency and in Sioux Lookout.
SLAAMB offers literacy and essential skills training, as well as various apprenticeship programs to area First Nation residents. The geographic area of SLAAMB consists of 25 northern Ontario First Nations. Trainees from those First Nations come to Sioux Lookout, and they often stay in hotels during their training period.
"The majority stayed in hotels… We try and find places for them to stay here and there but, in the end, we end up putting them in hotels at great expense to us," said Beardy.
SLAAMB's geographical area includes: Bearskin Lake First Nation, Cat Lake First Nation, Deer Lake First Nation, Eagle Lake First Nation, Fort Severn First Nation, Kasabonika Lake First Nation, Keewaywin First Nation, Kingfisher Lake First Nation, Kitchenuhmaykoosib Inninuwug (Big Trout Lake), Koocheching First Nation, McDowell Lake First Nation, Mishkeegogamang First Nation (Osnaburgh), Muskrat Dam First Nation, New Slate Falls First Nation, North Caribou Lake First Nation, North Spirit Lake First Nation, Pikangikum First Nation, Poplar Hill First Nation, Sachigo Lake First Nation, Sandy Lake First Nation, Saugeen First Nation, Wabigoon First Nation, Wapekeka First Nation, Wawakapewin First Nation, and Wunnumin Lake First Nation.