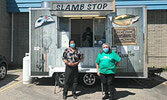 SLAAMB bids farewell to its food truck
Reeti Meenakshi Rohilla -
Staff Writer
Sioux Lookout Area Aboriginal Management Board (SLAAMB) recently bid farewell to its SLAAMB Stop food truck after five years of serving as a food destination in town and a tool for culinary students to further their skills.
SLAAMB Coordinator Mary Tait said that the food truck was purchased in 2017 to serve as an added resource for SLAAMB's culinary arts students. She said that working in a fast-paced fast-food environment wasn't a part of their culinary curriculum, and so the truck would help expose students to a different kind of work environment that has been gaining popularity in recent years. "These individuals get trained in the culinary arts and there is no fast food pace experience in the culinary arts. But that's what we wanted to expose the trainees to, how it is in the fast food industry, because that's the way most of the communities are running now, in a fast pace," said Tait.
Tait said that for students taking the culinary program going forward, the organization will strive to find them placements and offer hands on experience through their catering kitchen that was established a little over two years ago. She said, "The culinary arts that was done in here, out of that there is Ka-Wee-Sin Catering that was created, so that one is going to carry on because they have the kitchen. It's been around for two and half years."
A SLAAMB Culinary Arts graduate from the class of 2017, Jephthah Tait said, "It's (the food truck) been here for four summers already, and I kind of felt like it was too fast, because we were just told on Friday that we are going to sell it to one of the communities up north, and I'm happy that it's going up north, but, will also miss working. The program that we're in, we're going to be doing catering, so I am kind of happy we are going on to another program. But I am sad that this thing is going."
With the Culinary Arts Program's most recent batch graduating last September, Tait said that the possibility of conducting a future class in the program would depend on the funding that may be received. The program typically runs for 43 weeks to 52 weeks, depending upon how a student may prefer taking their course load.
"To run a full culinary arts (program) this year is too late because if you are running it for 43 weeks to 52 weeks, you'll have to wait till the next fiscal year because our program runs by fiscal year," said Tait.
Tait said that since the graduation of the last culinary arts class last year, past graduates of the program had been running the food truck. She added that these graduates also offered a summer training program for students of the SLAAMB communities through the food truck. "Nobody is really overseeing them, but themselves. So, they are training the young ones, students are getting some experience so they are exposing them to the work how it is in fast food industry," said Tait.
Jephthah Tait, who has been working a seasonal job at the food truck, has also been training young students as part of their summer programs to better their culinary skills. "I worked with my sister and my nephew, so I am happy that I got to spend time with my sister and my nephew, teaching them a bit about the program," he said.
A grade 11 Fort Severn student Keisha Dodsworth, who has been attending this program for over two weeks, said that she is enjoying being a part of this learning. Dodsworth said, "I worked here for like maybe two weeks, a little over two week, it's been fun." She added, "I've just been cleaning up and helping in the truck and making food."
Tait wishes the next owners of the food truck the very best for their future endeavors. She said, "I'm kind of sad today is the last day, but then also I am glad because the truck has exposed to one of our First Nations community, and I believe that is starting self employment. That's one of our goals here, to encourage youth to start self-employment and I think this is good…for the youth who are buying the truck and want to start something."