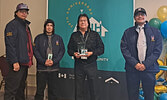 SLAAMB an award winner at this year's First Nations Housing Conference
Tim Brody - Editor
The Sioux Lookout Area Aboriginal Management Board (SLAAMB) has been recognized with a 2022 First Nations Community Housing Award for its training program and projects in Hudson.
The award was presented on October 26 at the First Nations Housing Conference's gala and awards show at the Valhalla Inn in Thunder Bay.
SLAAMB shared that their four-year Carpentry Apprenticeship Training Program has built two duplexes so far on their property in Hudson and is working on a three storey Learning Centre, Garage and a 120' x 25' Warehouse/workshop. A two storey residential unit for female trainees is being planned.
"We dedicated the award to our first Red Seal Carpenter/Instructor Bob Howden and Assistant Ben Ingram, who trained the apprentices for the last two years and recently two Red Seal Carpenters/Instructors Don Marion and Dale Cutfeet were brought in to train the present 10 trainees," SLAAMB shared, adding, "The hard work and dedication of the trainers/trainees along with the SLAAMB Staff, Board and Keewaytinseh Future Training Corporation and the local contractors has been instrumental in getting the Recognition Award."
SLAAMB Assistant Coordinator Ziggy Beardy said of SLAAMB receiving the award, "We were overwhelmed by the Recognition Award as we have laboured in Hudson for three years on this Carpentry Apprenticeship Training Program, having our ups and downs, disappointments and triumphs, times when the program would go belly up. But it's due to the commitment of these young people who gave up three years of their time to be here is what will make this program a success."
"The First Nations Housing Conference (FNHC) is the leading industry event for learning and networking. Previously known as the First Nations Northern Housing Conference, the conference has now expanded to include all of Canada. Community leaders and housing professionals gather at FNHC to meet quality suppliers, attend leading-edge workshops, and collaborate with likeminded individuals from First Nation Communities across the country.
"The knowledge and connections gained at this conference are invaluable. As a premier event for First Nations housing professionals, delegates gain vital knowledge and skills as they explore and learn the best practices involved in providing quality and safe housing for their Communities," FNHC explained on their website.
The conference was hosted by the First Nations Housing Working Group which is comprised of professionals from: Independent First Nations Alliance, Matawa First Nations Management Inc., Mushkegowuk Council, Nokiiwin Tribal Council, Pwi-Di-Goo-Zing Ne-Yaa-Zhing Advisory Services, Shibogama First Nations Council, Windigo First Nations Council, and the Ontario First Nations Technical Services Corporation.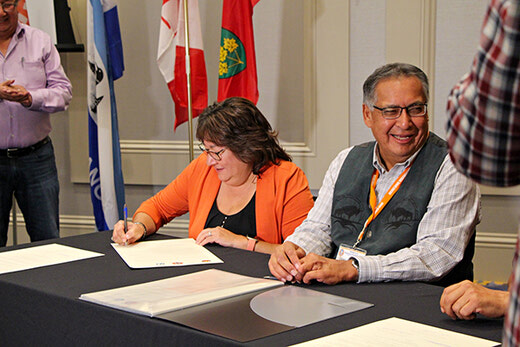 Tuesday, November 1, 2022
A Memorandum of Understanding among the Bikiiwewinig Nindawaashishiiminaanak Initiative (Bringing Our Children Home), Northern Nishnawbe Education Council, and Sioux Lookout First Nations Health Authority was signed on Oct. 19 in Thunder Bay...