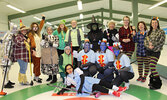 Skip to Equip women's curling fundraiser this weekend
Tim Brody - Editor
The 9th Annual Bearskin Airlines Skip to Equip women's curling fundraiser is taking place this weekend at the Sioux Lookout Golf and Curling Club and according to committee member Muriel Anderson, teams can't wait for the fun, non-competitive event to get underway.
"I think we have a record number of teams. We have 28 teams as of today (Nov.1)… It will make for a very, very busy curling schedule," she said.
Curling will begin on Thursday evening and run through to Sunday. A cheque with this year's fundraising total will be presented to the Sioux Lookout Meno Ya Win Health Centre Foundation Sunday afternoon.
The event has raised more than $500,000 in eight years for the Foundation to support local health care.
This year, the women's curling fundraiser is raising funds to replace the health centre's IV pumps.
Each year has featured a unique theme that curlers have dressed up for. This year's theme is commercials.
A penny auction and silent auction will be taking place on Saturday and Anderson said the community is invited to drop by the curling club to take part. Community members are also able to drop by each day of the event to take in the curling action.