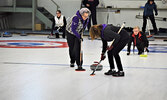 Skip To Equip celebrates 10 years
Mike Lawrence -
Staff Writer
The Skip to Equip Classic is back, marking its 10th Anniversary and 10 years of fundraising for the Sioux Lookout Meno Ya Win Health Centre.
After a hiatus last year due to COVID-19 restrictions, and with the theme of "Music", Skip to Equip to will run from November 12 to 14 at the Sioux Lookout Golf and Curling Club (SLGCC).
To date the women's curling fundraiser has raised over $600,000 towards equipment for the health centre, including but not limited to a mammography machine, an ultrasound machine, and a C-arm for the operating room. Over $150,000 was also raised towards long-term care beds. This year's focus will be on providing funding towards the purchase of new IV pumps to replace existing equipment.
As Skip to Equip Committee Member Natalie Popovic states, "With COVID and a looming 4th wave, we aren't fully sure what the pandemic is yet to bring us or what exactly the rules and policies will be for an indoor event like this. The committee therefore decided to proceed with caution and cap it at 20 teams or 80 participants plus volunteers which is around half capacity for the curling club, where the three-day event will be held.
"In previous years, we had up to 30 teams and had done everything we could to promote the public to come [out] and take in the spirit of the event while supporting the auctions and draws being held, but this year may look different with new public health rules."
Popovic continued, "Either way the volunteers and the participants, so it seems, are just happy to be able to continue with the fun part of the event and participate in the curling games and camaraderie over the weekend. The committee has lots of fun stuff planned for the participants this year. Even with a smaller gathering we are sure to have a great time and just enjoy the opportunity to get out and be social again."
With the number of teams being capped at 20, the roster filled up fast. Popovic noted, "As soon as registration was open, more than 20 registration packages were immediately requested, and 15 teams registered and paid within two days. After nine successful years of a fun event, the ladies were ready for it this year! Anyone else hoping to get in on the event can ask to be put on a wait list or get involved as a volunteer."
People wishing to register or volunteer with this year's Skip to Equip Classic are encouraged to contact [email protected]. The Skip to Equip Committee would also like to remind anyone planning on attending that, as per provincial guidelines, proof of double vaccination will be required for curling participants and indoor club patrons. SLGCC Manager Sheila Suprovich confirmed, "Sporting facilities are required to have everyone double vaccinated so everyone will need to be in order to attend any indoor event. Youth under 18 are exempt if actively participating in sport."