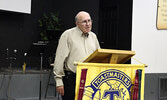 Siouxper Speakers Toastmasters recommencing meetings, welcoming new members
Reeti Meenakshi Rohilla - Staff Writer
The public speaking and leadership skills development group that's been serving Sioux Lookout for over 15 years now, will be kicking off a new season with their first meeting taking place on Thursday, Sept. 10 at 346 Drayton Road. Toastmasters International is a nonprofit educational organization that is connected through a worldwide network of clubs.
Stuart Cummings, who has been an active participant with the organization over the years, said that the upcoming meeting will be more of a discussion and an introduction to Toastmasters. "Considering that we are meeting outdoors starting at 7 p.m. and it gets dark by 8 p.m., it will be an abbreviated meeting. Utilizing an outdoor format allows us spacing to reflect COVID regulations," said Cummings.
He explained the format on which they conduct the evaluation of a speech. "Each speech is evaluated on a sandwich format. The top slice of bread is how the speech met the criteria of the exercise; the bottom slice of bread is the highlights of the speech - what phrases, word pictures, gestures etcetera stood out during the speech. The main part of the sandwich, the "meat", so to speak, is what the speaker could have done to improve the speech," Cummings said.
He said that this format exercises its member's listening and critiquing skills, which is a leadership necessity, including having everything timed, along with deadlines set for speakers to meet. Skills learned at Toastmasters may be vital to people who wish to present themselves in many situations, whether it be an initial job interview, professional development for advancement or simply the confidence and ability to quickly respond in conversation, Cummings added.
With the first unofficial meeting held in 1905, Toastmasters began as a series of speaking clubs. According to the Toastmaster's International website, it was initiated by Ralph C. Smedley, director of education at the YMCA, upon noticing a need for the men in the community to learn how to speak, conduct meetings, plan programs and work on committees, and wanted to help them. The organization was officially established in 1932.
"In the past we have had people attend who were afraid to speak in public, even to the extent of standing up to introduce themselves. Within a relatively short time, the friendly atmosphere of Toastmasters allowed them to overcome their fear and begin to give speeches. Siouxper Speakers is looking forward to welcoming new people this year. We have benefitted people wishing to improve their grasp and use of the English language as well as provided opportunity to those wishing to compete in speech contests on an area, division, district and international level," concluded Cummings.