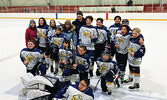 Sioux Storm crowned champions in home tournament
Tim Brody - Editor
Sioux Lookout's peewee hockey teams had strong showings in their home tournament, which ran from Feb. 14 – 16 at the Sioux Lookout Memorial Arena.
Eight teams competed in the tournament, which was hosted by the Sioux Lookout Minor Hockey Association: Dryden Venom, Dryden Outlaws, Ignace Phantoms, Fort Frances BP Royals, Kenora Copperfin Coyotes, Ear Falls Eagles, Sioux Storm, and Sioux Wolverines.
The Sioux Storm won the A-side championship, defeating the Dryden Venom.
In the B-side championship, the Sioux Wolverines finished runner-up to the Fort Frances BP Royals.