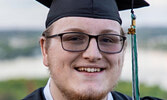 SNHS Valedictory Address
Nicholas Brohm
Hello everybody my name is Nicholas Brohm and on behalf of the Sioux North High School Class of 2021, I would like to thank you all for joining us on this momentous occasion.
For many of us it has been a long road to get to where we are today, 4 years, 3 hockey seasons, 2 school buildings, and 1 pretty inconvenient global pandemic. I know that the shift from in class learning to online learning was challenging. Some of us went months without seeing our friends and teachers and generally missing out on a lot of that high school experience but in true Warrior spirit, we faced these challenges and overcame them. In this process, some of us even learned a much easier way to sleep in class!
All joking aside, the first thing I want to do is remind each and every one of you that you made it, this is your graduation ceremony and I hope you all feel incredibly proud of yourselves and your accomplishments. Our class is filled with students who have done amazing things. The Sioux North class of 2021 is truly one of the best and brightest groups in QE and Sioux North history.
Throughout high school, our class has been through some pretty major changes. The biggest change by far was the change from QE to Sioux North, the Class of 2021 was the last class to spend a full year in QE and to me that is a special thing, I can say that some of my best memories have been made in both high schools. This really goes to show that our school community is not defined by the building that we are in, it is the people that surround us that make our experience memorable and worthwhile.
Some of my favourite memories from high school come from my time playing basketball. I joined the junior boys basketball team in grade 10 and I was nervous because these guys had been together for a year already but they took me in and treated me like a member of the team. This was a change for me because before then I had not played a team sport in high school, but I embraced this challenge and got out of my comfort zone and found a community that I enjoyed being part of. That year we went on to win NorWOSSA gold beating out every other team in the region.
In this experience I learned that some of the best opportunities in life lie right outside your comfort zone.
Just like I have a personal memory of playing on the basketball team, we all have personal memories of our time at Sioux North that will stay with us for the rest of our lives. Whether it's playing on a sports team, playing music in the music room, or travelling to Europe with the travel club these are the experiences that we will tell stories about 10 and 20 years in the future. Our high school experience is just that, an experience and no matter how our lives change we will always be a part of us because we will always have the memories within us.
Moving on in life, we will be entering an incredibly diverse world with so much to offer but we are lucky, we already have experience learning and experiencing other cultures. In a town with an abundance of culture, it is no wonder that our school community is as diverse as it is. Whether it's the First Nations students of our community or the students whose parents came to Canada from other countries; everyone brings some of their culture and heritage with them making up the multicultural mosaic that is the Sioux North Class of 2021. Over the years, I have learned so much being immersed in this multicultural community and being able to learn has changed my understanding and made me a more accepting person. I appreciate all the opportunities we have had over the years to experience and learn outside of the classroom, opportunities such as the multicultural potluck, numerous drumming circles, and hosting exchange students in our community. These opportunities allowed us to learn and celebrate the different cultures of the community around us, which is an incredibly important thing because learning and understanding is the key to bettering both yourself and the world around you.
We are the next generation, we will be the ones leading Canada and the rest of the world into the future. This class is full of incredibly talented people with the skills, intelligence, strength, and compassion that will help us accomplish anything we put our minds to. Whether you're passionate about arts, sports, science, or just getting out there and exploring the world, I know that you will all do your best to make this world a better place. Wherever life happens to take you, I want you all to remember one quote from the late Steve Jobs, he said "the people who are crazy enough to think they can change the world are the ones who do."