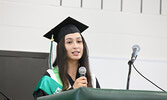 Sioux North High School Valedictory Address
Emaya Van Diest - Valedictorian
Good Afternoon staff, friends, family, distinguished guests and especially my fellow graduates. Before I begin, I would like to acknowledge our drum, Makadaawa Makwa. I would like to extend a warm welcome to all that have come to celebrate with us. I know that many of you have travelled a great distance to be in attendance, and I thank and welcome you to Sioux North High School. As well, I would like to welcome those joining us on the live stream. My name is Emaya van Diest, and it is such an honour to have been chosen to represent my peers in delivering this year's valedictorian speech.
Well, everyone, we did it. The blood, sweat, and tears we put into getting us to this day have paid off. The epic highs and lows of high school are over. Throughout our time in this building, we have experienced various obstacles that have helped us build our strength and resilience and made us stronger, more rounded individuals.
Our first challenge came on a beautiful sunny day on September 4th, 2019. The first day of high school! Excitement, nervousness, and maybe even a little sadness was felt amongst us. As a student coming from Sioux Mountain Public School, I remember feeling anxious to meet the new students that would be joining us at Sioux North. We were nervous to make new friendships with people we may have only seen over social media. For my classmates coming from Northern communities, these feelings were only amplified. Leaving home to come to a new community to pursue education was both exciting and daunting at the same time. The hardest part of the transition was that you had to work through these feelings without the comfort of your families or your own homes. Most youth do not leave home to pursue education or work opportunities until they are 18 or 19 years old. Yet, you left the lives that you knew to come here, to Sioux North, to complete high school. The transition from elementary school to high school only made your experience that much more challenging, especially in a new community surrounded by people you did not know. But over those first weeks we all came together and new friendships formed.
For some, it was the best year of high school, regardless of the fact that we were the runts of the pack. Sports allowed some of us to make acquaintances with those in the grades above us. A few of us were noticed for excelling in sports despite our age. Electives such as automotive and art classes gave us the chance to choose activities that we took an interest in and the promise of a new exciting life was ahead. Yes, school was much more demanding, as we had been told by our elementary school teachers, but all the new things we were experiencing made the work worth it.
Come the second semester of 2020, a rumour was afloat. COVID-19 was spreading around the world. I remember at first it was sort of a joke among students. We were living in ignorant bliss, not expecting anything to come from this virus that seemed to be thousands of miles away from us and our happy little bubble. Oh boy, were we wrong. The day before March Break, I remember the tension in the air from teachers. We were expected to bring home our Chromebooks and not to leave anything behind in case we were not able to come back to school for the first week or two. Little did we know that those one to two weeks of staying at home after March Break would turn into not returning to school and being isolated from the lives we had just begun.
Covid marked one of our biggest challenges to date. We were forced to retreat to our homes, and students who had travelled to attend Sioux North returned to their home communities, all of us once again separated. Attempting to navigate Google Meet and learning online amidst the feelings of isolation, loneliness, and anger proved to be difficult. Some did well in learning without the physical presence of a teacher, others, myself included, did not. All of the new opportunities that had been granted to us were gone. By the time the end of the school year came, I think we were all so sick of our situation that we began to romanticise the one true semester we had.
By the beginning of Grade 10, there were not many of us physically back at school. Some of the Northern communities decided it would be best to keep students home, while others were able to return to school. Students from Northern communities make up a great amount of our school population and without you, the school did not seem as full and bright as it once did. During Grade 10 semesters were turned to quadmesters, masks covered smiles, standing close to friends became against the rules and seeing people on a screen became normal. Oftentimes we would be sent home to do school online, which had an effect on all of us. We were drowning in our worries, scared that normal might never come, but we continued our education no matter the struggles that came our way.
Now, all this sounds very doomsday-like, but my point of sharing our difficulties is to say that we did it! We are living proof that even through a pandemic and dealing with our own internal struggles, we have taken these challenges and used them to shape us into the people we are today.
Things began to look up in Grade 11. Many of the students from Northern communities returned, and our vibrant halls were back. Masks were no longer mandatory and seeing people's entire faces got some taking used to. Athletes were once again able to play the sports that they loved and took joy participating in. The graduates from last year were able to have a prom and a graduation celebration. Our school community began to flourish as it once did before.
This brings us to this year. The year to end all school years, our very last! These past two semesters have been filled with excitement for the future. Of all our time in high school this is the first normal school year we have had. We pushed through and strove to make it here today, together, with the help of each other. Although high school may seem short compared to what is ahead of us, the changes we have gone through have been drastic. I have watched you mature into such amazing, wonderful people. High school has taught me a lot. Yes, of course, we learned a lot academically. I'm pretty sure I'll remember that velocity equals displacement over change of time for the rest of my life, but I also know that it has taught us important lessons and life skills that we will need for our future.
Like you, I have definitely had days where I did not want to open my Chromebook to see the missing assignments I had left to do, much less go to school. However, these last few months I have thought long and hard about just how much I will miss this place. Although Sioux Lookout is not a huge community, I would argue that our school has given us more opportunities than most other schools. We have our Specialized High Skills Major program which gives the option to pick from one of the categories such as Health and Wellness, Automotive, Construction or Business. Co-op courses have provided us with opportunities to delve deeper into career options and to get training and certifications that will help us down the road. Another great thing that has come this year is the many clubs that have started again. Recently, our fellow graduate Kameron Gaudreau, a member of the chess club, took home 1st place in the chess tournament in Dryden. Carlos Mattinas went to OFSAA for wrestling and Presley Brohm and Marek Mckay went to OFSAA in Toronto for badminton. Several of us were also awarded MacBooks from the Connected North Digital Inclusion Grant.
None of this could happen without the amazing staff that we have at Sioux North. Each one of you has impacted our lives, as you have watched us grow during our time here. The thing I will miss most about high school, aside from my classmates, will be the staff. So, this is to all of you. On behalf of the graduating class of 2023 - thank you! I know that some of you have definitely questioned what this world has come to when we've shown up to class and just made strange noises at each other (ahem, Kiepek). Yet, you were all always there, giving us a shoulder to lean on in times of need, cheering us on in times of celebration. I will miss the days of seeing Ms. B in the hall in some new fabulous outfit, how she looks so good every day I will never know. I will miss: writing notes in Ms. Wilson's biology class until my hand I'm sure has almost fallen off, making Mr. Hoardy, Ms. Landheer and Mr. Coughlin crazy over who is going to sell prom tickets at lunch, baking on Fridays for Mr. Vinceffy's Law class, asking Mr. Greene questions about vehicles, bugging Mr. Boivion whose first name should indeed be Princess Peach instead of Mario, coming up with elaborate plans with the other students on how to make Mr. Kiepek question his career choice again and again, looking at just how weird the English language is with Ms. Albrecht, almost hitting Mr. Gain in the head with baseballs with my wicked hand-eye coordination, and seeing staff and teachers in the halls and giving them updates on how life is going. I wish that I had the time to say something about each of you, but if I did we would be here for hours and I'm pretty sure we'd all have passed out by heat stroke before I could finish. It makes me sad to think that these times are coming to an end, but I know that my fellow graduates and I will think about and cherish these times we've had with you when we are reminiscing of the 'good old days.'
When I look back at the girl I was four years ago, I see the pieces of my identity that this school has helped to build. Most of us are technically adults by now, but as Mr. Kiepek has said many times before, he is in his forties and still doesn't feel like he should be an adult. There are many questions that are left unanswered in a person's last year of high school. What obstacles will we have to face? What is to come of our lives? My friends, that is entirely in our hands now. This is the start of something brand new. Yes, this new path that we are on is scary, but it is so exciting. It is time for us to start our own lives, make our own decisions, and continue through the journey that is life. High school has been our safety blanket for the past few years. It is now time to lift off the blanket and face the world in our own individual ways. There are so many different paths that we could take in the future that it makes my head spin. So many decisions and possibilities for what is to come. From here forward, what we make of this life that we have been gifted is up to us, although we may still have some nagging mothers on our backs.
As we start this new journey I am both happy and filled with a sense of sadness. This new beginning means that we will have to do it on our own as opposed to together as we have done for many years now. So this is for my fellow graduates. As I look at all of you, I can't even begin to explain how proud and amazed I am by each of you. I know you are destined for such greatness and I am so excited to see how our lives will unfold. We will not be able to see each other every day, but just know I am always thinking of our memories together. For example, I think that every time I hear the noise of a villager dying or see a skeleton I will think of our laughter-filled Physics and Chemistry classes. I will be keeping a watchful eye out to see your accomplishments. I truly am going to miss these times we've had together. I just want you to know that I would have never in a million years have asked for anyone else to have gone through high school with. So thank you. I am thrilled to see what your lives hold in store for you and I promise I will be better at answering my phone to keep in touch.
Again, a huge congratulations to my fellow grads, we made it. All those late nights studying, stressing over tests, and struggling to get assignments done in time have led us to this stage today. Our efforts have not gone unrewarded and our failures have only made us grow stronger and smarter. Thank you, valued guests for coming, I know it means so much to our graduates that you came to this momentous day. So with that, let us celebrate and begin our lives together.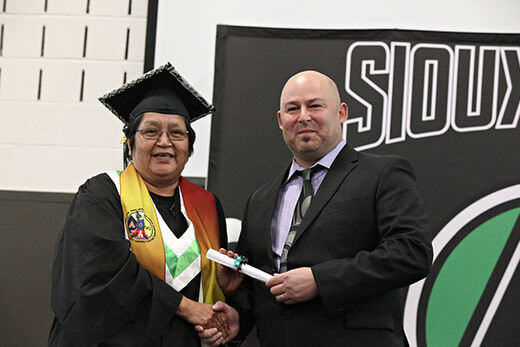 Wednesday, July 5, 2023
Bertha Trout receives her diploma from Sioux North High School (SNHS) Principal Darryl Tinney...