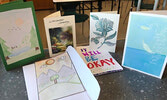 Sioux North High School students write hopeful letters to Extended Care residents
Reeti Meenakshi Rohilla -
Staff Reporter
Sioux North High School students have written cheerful and encouraging letters to support residents of the William A. George Extended Care Facility, who may be feeling isolated during the COVID-19 pandemic.
"I just wrote some encouraging things to help them, put a smile on their face, while they are going through this rough time. I shared a picture of my pet to make them smile, and I wrote a poem. It's important that we come together as a community to support others, especially people going through really rough times right now," said Sierra Woods, a grade 10 Civics student.
Mylo Anderson, also a grade 10 Civics student, said that he wrote his letter with a hope of trying to help. "Just to provide a source of comfort for them to feel better about their situation," he added.
Sioux Lookout resident Judith Boles, who initially started writing letters and cards to seniors and encouraged community members to join, shared that the letters were delivered to the Extended Care last week. She added, "I think it was wonderful that the students took the time to write letters and draw pictures. They did a great job!"
Another grade 10 Civics student, Zachary Lance, said that he hopes to make the seniors happy, knowing that people are thinking about them. Lance encourages others to write as well. "I think, everyone should try and write something. It doesn't have to be super long, but, just to help them out a little bit, make them a little happy in the position they are in right now."
Boles shared, "Unfortunately, I haven't been overwhelmed by mail for the seniors, but I am so grateful for everyone who did take the time to reach out… I have heard that the cards and letters, especially from the high school kids, were very much appreciated."
"The residents had big smiles on their faces when they received the handmade cards!" confirmed Cynthia Dwyer, Administrator at the William A. George Extended Care Facility, operated by Sioux Lookout Meno Ya Win Health Centre. "Most of the residents don't receive mail, so this correspondence is greatly appreciated by the residents. The staff handed out the cards and then sat with the residents to read the card to him or her. The card was then put up on display, which really brightened up each resident's room. Thank you to the students from Sioux North High School for their time and creativity, it is much appreciated."
Sioux North High School grade 10 Civics Teacher Nicole Carbone said that she offered creating cards for the seniors as an option for the final project of their class. "They created very neutral but, encouraging and positive cards. Some were handmade and some were purchased cards, and they put a positive message inside," Carbone said.
Carbone shared that the project aimed to practice key concepts of the curriculum, of being informed, empathetic and respectful, and making a contribution. She said that seven students took advantage of this option. "Just getting into practice of the act of giving, and contributing to the community is beneficial for both, themselves and the community." Carbone added that she plans to offer this option again for her next batch of grade 10 Civics students.
Boles concluded that she would love to have more people write letters to Extended Care residents on a regular basis.