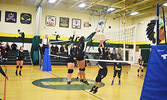 Sioux North High School excited for athletics seasons
Jesse Bonello - Staff Writer
High school sports are back in action and students and staff at Sioux North High School (SNHS) are looking forward to the athletic seasons this year.
Different from years past, SNHS joined the NorWOSSA (Northwestern Ontario Secondary Schools Athletic Association) 'AA' division in basketball, volleyball, and soccer for the 2019-20 seasons.
"The big change for us this year is the fact that we've gone to a double-A school league this year, so now we're strictly playing Dryden, we're playing Kenora, and we're playing Fort Frances in that league. We're looking forward to that. We had a good series last week. The junior boys came out on top in volleyball for their first win and the girls had some really close games with Dryden, so it's been awesome," said Andy Schardt, SNHS vice-principal.
"We've also made some changes too with NorWOSSA. Last year, the court sports were played during the day so they're now after school, so parents and community members can have an opportunity to see their games. It's also cost-saving for the board doing it that way too. We reduce our supply costs and keep kids in school," he added.
Schardt shared the school is excited to see all their teams return to action.
After making back-to-back OFSAA appearances, the SNHS boys' hockey team is experiencing a turnover year this year. Schardt said the student interest for both hockey teams has never been so high.
"We're excited about them all, but I have to say the hockey looks promising again. With the boys' hockey, we had a couple of big successful years. It's a big turnover for us this year. We've lost, I think, 18 players from last year but we had over 40 tryout this year, which was really great for us. Normally those numbers are a lot smaller... I'm pretty sure we'll be competitive there, and the same with the girls' team. We've had about 40-plus girls tryout, which is again a unique situation for us having that many. I know they selected their team and the feel like they can be competitive too. We're excited. We're looking forward to a great year," he said.
In early September, bardown.com, which is a website powered by TSN.ca, was calling on their Twitter followers to submit their high school hockey jerseys.
After receiving dozens of submissions, BarDown ranked their top 15 submissions on their website. The Sioux Lookout Warriors home jerseys were ranked number 15.
"It's awesome. When our boy's hockey team was down in OFSAA last year we got lots of comments about the jerseys and stuff, so we have a lot of pride. Anytime there's change there's people that question it, but we move forward from that and have a lot of pride in it," said Schardt.
The SNHS boys' volleyball teams and girls' basketball teams return to their home court on Oct. 7 when they host the Fort Frances Muskies. Games start at 4 p.m.