Sioux North High School celebrates the class of 2022
Tim Brody - Editor
Sioux North High School celebrates its graduating students before a packed house of family, friends, and members of the community on June 23.
The graduation ceremony included an honour song and travelling song, a blessing and opening remarks by Pattie and Robert Keesic, the presentation of awards and diplomas, as well as a graduate slideshow and valedictory address.
Lac Seul First Nation Chief Clifford Bull told those present, "For me, today is a very special day."
He continued, "When I walked in here this afternoon, there was an air of exuberance and joy. It's a really good feeling. I feel really good for the graduates that are here; I wish them all the prosperity and success as they journey through life."
Pattie Keesic shared, "Congratulations to all graduates. We're proud of you… your hard work, dedication and persistence." She told graduating students to follow their dreams as they move forward.
Principal Darryl Tinney told those present, "They say it takes a community to raise a child. Our most sincere thank you goes out to all of the various communities, organizations tribal councils, businesses, and individuals that have provided scholarships and bursaries for our grads." Thanks to this support, the school presented $71,850 in scholarships and bursaries."Thank you to all of the parents and guardians for the opportunity that we were given to work with your children. Today they graduate as young adults, who are fine representatives of the communities that they come from," he said.
To graduating students, Tinney said, "The journey that this group has taken from Grade 9 to graduation has to be the most unique journey ever for a graduating class. Most of you would have started Grade 9 at Queen Elizabeth, moved into a new school after March Break, and just when you had a first full year at SNHS, with an opportunity to make the school your own, and help the school find its identity, we get hit with COVID and a global pandemic.
"You were introduced to virtual learning, Google Meets and "you are musted" became a daily catch phrase! You pivoted from in class learning to virtual learning multiple times over the past three years. Inclement weather days turned into hybrid days. Yet through all of these challenges, here we are… here you are, the proud graduating class of 2022. The perseverance, grit, resilience, and determination that you have shown in the face of adversity are life skills that will serve you well whether you choose to go to the workforce, college, the trades, or university. As you begin the next chapter of your lives, I challenge each of you to continue to rise up to the challenges that you will face and be the best version of yourself. On behalf of the SNHS staff, it has been a pleasure to work with you and get to know you and I want to thank you for allowing us to be part of your life journey. We wish you continued success and happiness in your future endeavors. To quote Audrey Hepburn, "nothing is impossible. The word itself says, "I'm possible."
Graduate Faye Mesich said of graduating, "It's great, but a little bit sad."
She said of learning during the COVID-19 pandemic, "It was a bit tough trying to stay motivated to actually do your schoolwork… it was good overall, a bit sad not to get to spend all four years with my friends."
Asked about her future plans, she shared, "I'm going to take a year off school and then hopefully apply for dentistry."
Graduate Kalin Roy said of graduating, "It feels absolutely amazing!"
He said of learning during the pandemic, "It was pretty difficult, but we all had each other… kept each other in the loop, but then as soon as school came back, we were all right back into it, tried to have fun, we had our prom, which was planned in two days, it was quite the experience."
Graduate Sarah Williams said she was happy to graduate.
Looking ahead Williams said she is looking forward to attending Algonquin College for Business Management and Entrepreneurship.
Graduate Blayne Anderson-Binguis said graduating felt awesome.
He is hoping to work as a FireRanger this summer.
This year's graduates are: Charmaine Aganash, Kiiwedin Albany, Blayne Anderson-Binguis, Shamira Angeconeb, April Angees, Kiana Barker, Cody Barkman, Kailey Barnes, Christal Beardy, Liya Beardy, Suezanna Beardy, Renee Bearman, Marissa Bighead, Orion Bottle, Ruth Broderick, Josh Bull, Diamond Carpenter, Rowan Daniels, Charles Darling, Cory Fitzgerald, Braylynn Flett, Keenan Fontaine, Heidi Fox, Tristan Goodman, Eric Goretzki, Angus Gray, Selena Gray, Walter Head, Zoe Hudson, Calvina Jeremiah, Seth Kakegamic, Tessa Kakekagumic, Kayden Keesic-Bearman, Ty Kejick, Jaylynn Kenny, Cruz Kingston, Austyn Lyon, Abel Mamakwa, Maxwell Marshall, Hailey Mathe-Bull, Jermayn Maxwell, Allissa Maya- Poile, Brielle McDonald, Delayna McKay, Storm McKay, Taijuan McKay, Cameron McKenzie, Faye Mesich, Jeremy Monias, Jeremiah Moquano, Elliot Murray, Adrian Ningewance-Quedent, Raiden Oskineegish, Gavyn Otto, Joelife Pacapac, Olivia Peel, Michaela Peters, Jennessa Rae, Aaliyah Rae-Harper, Joshua Rice, Xander Richards, Kalin Roy, Thomas Sailer, Conroy Sainnawap, Justin, Sainnawap, Amanda Scott, Kylee Scott, Bethany Spence, Jessalyn Spence, Priscilla Suggashie, Annika Tait, Tia Tait, Rielly Thivierge, Colby Toms, Jocelyn Toms, Liam Trout, Nadia Trout, Alyssa Vincent, Caleigh Wesley, Danyelle Wesley, Keegan Wesley-Keesic, Sarah Williams, and Kaitlyn Wren.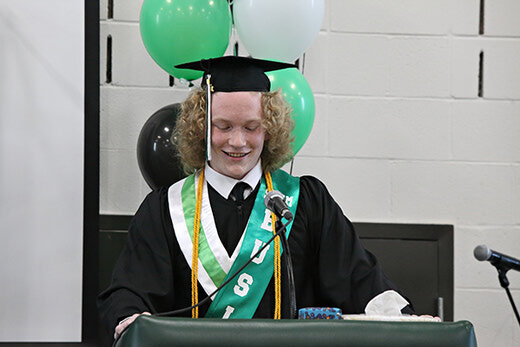 Tuesday, June 28, 2022
Good afternoon honoured guests, our drum Makadaawa Makwa, administration, teachers, family, friends, my mother Viki! A special welcome to all family and friends who have travelled from northern communities and from out of town to be here today...