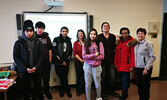 Sioux North High School AYEP students let their talents, ideas shine
Jesse Bonello - Staff Writer
Ten Sioux North High School students who are in the Grade 11 Aboriginal Youth Entrepreneurship Program (AYEP) had the opportunity to present their own business plans in front of local business owners during their culminating presentations on Jan. 23 and 24.
Among the local business owner judges were Lisa-Ann Geddes (Vegan Delights by Lisa-Ann), Andrew Jones (Pelican Lake Sandwich Company), and Hazel Mills (Serenity Quilts).
Students were scored out of a total 135 points by the judges during the presentations of their business plans.
The top three highest scoring students were Janelle Sawanis with 107 total points for her dog bath business plan, Daydrin Owen with 98 total points for his in-school coffee/tea shop business plan, and Anthony Slobozian with 95 total points for his custom glass blowing business plan.
Sawanis shared that through taking the course, and doing the business planning, it's helped her to realize a potential career path.
"Through having this class I figured out what I want to do, which is work with animals. I'd like to work with animals when I'm older. This class has helped me figure out the options I have in the future," said grade 11 student Janelle Sawanis.
Grade 11 AYEP teacher Beth Dasno explained that the grade 11 AYEP course is paired with a grade 12 e-commerce course.
"It's funded by the Martin Aboriginal Education Initiative…The program is comprised of a grade 11 entrepreneurship class and a grade 12 e-commerce course. Ideally students in the AYEP program take both courses because one flows into the other," explained Dasno.
"It takes the Ontario curriculum for the regular grades 11 and 12 business courses and it redesigns them through an Aboriginal lens. We do a bunch of visits, like Sioux Escape came in to talk with the kids and we also did tours of DJ's and Kolors here in town," she continued.
Local business owner and guest judge Lisa-Ann Geddes shared that she enjoyed sitting through the presentations and seeing the different ideas the students came up with.
"I think the plans that they shared are realistic and it's great that they incorporated environmental focuses as well…As a business owner, I think it's great that they want to engage in their own community and stay here. I think that's important," said Geddes.
Dasno explained that in previous years students have made these business plans turn into a reality, which has led to increased optimism for the future of local entrepreneurship.
"I did have Sam Wood. She's a student who will be graduating this year and she created bath bombs as part of this course and she's gone to the Farmer's Markets. There's also a young man named Kaden Kanakakeesic who started Sioux Knives as well," she said.
"I find it really inspiring when I see the diversity of ideas that comes out… It really makes me hopeful for the future, especially with young Aboriginal people leading the front of entrepreneurship in our region," she concluded.
Anyone interested in assisting with this program as a volunteer guest speaker, student mentor, judge or hosting the class for a tour of your business, please contact Beth Dasno at [email protected]