Sioux Mountain Winter Festival wraps up, plans to return next year bigger and better
Tim Brody - Editor
The Sioux Mountain Winter Festival made its return last week, offering a variety of activities from March 16 – 19.
A joint effort by the Sioux Lookout Chamber of Commerce and the Municipality of Sioux Lookout, Chamber Past President Christine Hoey said she was happy with how the event ran.
"It takes a community to do this and we have such good volunteers and so many people that really enjoy it, so I'm just really glad."
Hoey, along with Chamber President Katie Positano, met with Municipal Recreation & Culture Department Manager Rony Chakraborty to discuss making the winter festival happen after receiving a call from Chakraborty about the possibility of resurrecting the event, which last ran approximately six or seven years ago.
"We met for the better part of six or eight weeks just trying to get some events going," Hoey explained.
She said the Sioux Lookout Anglers and Hunters annual fishing derby, events scheduled by the Sioux Lookout Public Library, and two Sioux Lookout Bombers games scheduled for last week provided a solid backbone for the festival. After that she said it was a matter of reaching out to local businesses and organizations.
Hoey said a goal for the festival was to try and make events low cost or free.
The Municipality of Sioux Lookout shared, "Following several years without a Winter Festival, the Municipality and the Chamber of Commerce jointly decided to relaunch the popular winter activity. Representatives from the Chamber of Commerce and the Municipality's Recreation and Culture Department worked closely together, with the enthusiastic support of many local businesses, agencies, and organizations, to assemble this year's Winter Festival."
Chakraborty, noted, "We have been working steadily to offer new and popular programming and initiatives that promote healthy and active lifestyles, in a barrier-free environment. We look forward to growing the Winter Festival each year: perhaps one day it will become as popular as our community's signature summer event, the Blueberry Festival."
The Sioux Mountain Winter Festival concluded last Sunday evening at the Legion with a question and answer session with local mushers Jesse Terry and Mary England, who had just completed a successful sled dog racing season.
Flowers and congratulations were presented to Terry and England by Sioux Lookout Mayor Doug Lawrance, along with Municipal Councillors Joyce Timpson and Reece Van Breda.
Several musical acts capped off the winter festival including performances by Dan Fraser, Nolan Gaudry, Serena Saudino, and bands Skin N Bones, True North, FMJ, and the Classic Humans.
The majority of the performers were students in Sioux Lookout's Multicultural Music Program, a program of the Nishnawbe-Gamik Friendship Centre.
Hoey said the plan is bring the winter festival back again next year, bigger and better.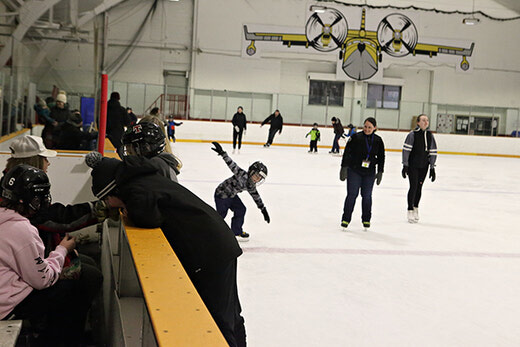 Tuesday, March 21, 2023
A steady stream of people visited the Sioux Lookout Memorial Arena on March 17 to take part in a free Family Skate...