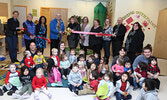 Sioux Mountain Children's Centre celebrates grand re-opening
Tim Brody - Editor
Keewatin-Patricia District School Board (KPDSB) administrators, Sioux Mountain Public School staff, Municipal Day Care management and child care staff, along with representatives from Sioux Lookout Municipal Council celebrated the grand re-opening of the Sioux Mountain Children's Centre late last year.
A ribbon cutting was part of the celebration. Cake was served as well.
Located within Sioux Mountain Public School, the newly renovated and expanded day care space now serves not only the children who attended previously, but also children who had been attending the Norah Love Children's Centre, which ceased to be municipally operated on November 2.
Five more toddler spaces that were not previously available at Norah Love were created as part of the renovations and expansion.