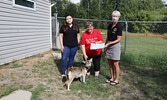 Sioux Looks Out for Paws receives donation to support operations
Reeti Meenakshi Rohilla -
Staff Writer
Sioux Lookout's animal rescue, Sioux Looks Out For Paws recently received a $1000 donation from the Sioux Lookout Lion's Club for all their hard work to care for the animals and pets of this community.
Sioux Lookout Lions Club Secretary, Lisa Larsh said, "Our Celebrations Fundraiser, which is our birthday displays and those type of things, we set a budget at the beginning of the year, and 50 percent of what we raised was intended to go for local causes, and Sioux Looks Out for Paws is somebody who has been involved with us a lot in the past in various events, running barbecues at our events that we had, and things like that, and so they have always been close to our heart as a charity for us. So, we made a decision at our last meeting to donate a $1000 to them."
Jenn Elwell, a Sioux Lookout Lions Club volunteer said that the donation is for the shelter to use towards anything they deem essential. "They do so much for the Sioux Lookout community. Whatever they need, the money is for them, for all the good work that they'll continue to do with it."
Chair of the Sioux Looks Out For Paws Board, Lynda Ducharme said that operations during the time of COVID have been challenging, and every bit counts. "We are proud. We have always worked with the Lions, especially when they did their walk for service dogs. This will be so amazing to help us because we've taken so many animals in these last few months. So, the vet costs, of course, and food and completing stuff, so this is fantastic."
Ducharme shared that the shelter has rescued a large number of cats and dogs, and is asking for the community's help to find homes for them. For more information, or to reach out to the shelter, visit Sioux Lookout Rescue's Facebook page.