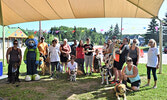 Sioux Looks Out For Paws hosts Annual Rescue Walk
Jesse Bonello - Staff Writer
Dog owners supported Sioux Looks Out For Paws Animal Rescue by joining them on their annual five-kilometre Rescue Walk on August 3. The event has been held for more than a decade now. Approximately 15 dogs participated in the walk and received homemade bandanas that were made by Sioux Lookout resident and Sioux Looks Out For Paws member Joan Dykes. Owners had the opportunity to collect donations for the organization through pledges for the walk.
"One of our pledges raised over a thousand dollars, which is amazing because vet bills are always a struggle for us. When people do that, it really helps," said Lynda Ducharme, Chair of the Sioux Looks Out For Paws Board.
Rescue Walk participant Geraldine Parfitt was awarded the title of The Most Dedicated Walker. Sioux Looks Out For Paws shared that Parfitt has been involved in nearly every Rescue Walk, and she always walks the entire five-kilometres.
The Most Sponsors award went to Judy Henrickson and her dog Baby Judy, who raised over $1000 for Sioux Looks Out For Paws.
The Most Beautiful and Smartest award went to Meagan Gascon and her dog Guinness.
The Most Faithful Elder Dog award went to Tessa Shurvell, Sarah Shurvell, and their dog Charlie.
The Youngest Walker award went to Cody Cummine, who attended the walk with his parents Heather Wobbe and John Cummine along with their dog Miss Bea.
The Most Golden Couple award went to Glenn and Denise Poirier and their golden retrievers Oscar and Cabella.
The Whitest Dog award went to Danielle Rasetti and her dog Yuki.
Sioux Looks Out For Paws raised $3015 from this year's walk.