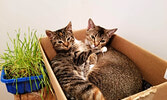 Sioux Looks Out For Paws encourages people to adopt this holiday season
Reeti Meenakshi Rohilla - Staff Writer
With people spending more time at home during the COVID-19 global pandemic, Sioux Looks Out For Paws believes this could be a great time to bring home a pet.
"It's a wonderful time to adopt because people are home and they can do the training and adjusting and I think that's what drives people to adopt these days," said Lynda Ducharme, the Chair of Sioux Looks Out For Paws.
With over a hundred animals rescued this year, Ducharme said that fall and spring witness an increase in the numbers of the animals rescued, due to an increase in the animal litters around these times. "We've been pretty fortunate. We've had four litters of kittens in the last couple of months." Ducharme said that the animal rescue service rescues a lot of dogs and especially cats. "But, because of the area, a lot of the people are dog people in this area. So dogs go, whether they are puppies or older dogs. Whereas cats, the kittens go, but the older cats don't go as quickly and we wish people would consider that they need home too."
Ducharme said, "We've been very fortunate. Our volunteers continue to come and do the animal care. We did put a lot of precautions in place. We do limit how many people come in to the pound. We won't take people into foster's homes because it's too much risk, so we usually meet them at the shelter." She added, "People have been adopting, it's been awesome. We are so fortunate. We have over 50 volunteers."
She mentioned that the animal rescue service is always looking for more volunteers, as well as fosters and drivers, due to a lack of local veterinary services. "We don't have those services here and a lot of times the animals have something medically going on and we need to get them there. So, sometimes we have to go three times a week." She added, "I really would like it if other people would volunteer to drive." Anyone interested in volunteering, adopting or donating can contact the animal rescue via their Facebook page or call them at (807) 737-4026.
Ducharme shared that the organization completely relies on donations, and with COVID-19, they haven't been able to get much support from their usual fundraisers. She said that two volunteers at Sioux Looks Out For Paws made and sold masks at Fair Convenience, which was a success. She added that volunteers at the organization assisted in collecting items from people that they might not need anymore, and combined them into an online yard sale to help raise some funds.
Ducharme said that the shelter has been fortunate with not having to re-rescue the animals that were once adopted from the shelter itself. She said that people often want to surprise their loved ones with a pet for Christmas. "We've been very fortunate in this area when we have had people who have come and said 'we're getting this as a Christmas present', it has worked out." Ducharme shared that she likes to caution people of a few things before they consider adopting. "Make sure that the person you are giving it to actually wants an animal and the second is, it is a lifetime commitment, so are they prepared to take care of this animal for the duration of its life? Can they afford it? The vet bills, the food, etc." She said, "Don't expect that a child is going to be the only one that is going to look after it, because people do that expectation and that is great. Yes, it does teach children how to be responsible. But, children are children and you can't just leave it entirely to a child."
Ducharme said that sometimes these animals spend a lot of time in the pound or at fosters until they are adopted. She explained that when the shelter intakes these animals, it is required to initially keep them isolated. "We don't know what kind of life they've lived. Most of them not very good. So, they are vetted and they have vaccinations and any parasites they have is cleared up, then they will go to foster." She added, "It's a temporary placement before adoption because we don't think this is the best environment for animals. Like, they are often scared when they come here. But we can't put fosters and their animals at risk, so we have to isolate."
Ducharme said that especially during the colder temperatures, the shelter often has an emergency need for foster homes. "We can take more animals in if we have more fosters." She shared that the foster homes are provided with everything that the animal may need to be fostered, like food and a cage, before they go up for adoption. "If anyone is considering it, please let us know as we will be very happy to see them get homes."
She added, "It takes a while, a lot of love and patience and understating and they become beautiful pets."
Ducharme reminds people to consider that it's bad for anyone to be left out in the cold temperatures for very long. "If you want your animals to not get hurt, like frost bitten, you should keep them inside when it's freezing and if you do take them outside, just limited amounts." Ducharme said, "We don't need more kittens and puppies and rabbits out there so please consider that, because part of our mission is to control the pet population. We have had dogs that have had five litters in three years. That is hard on their bodies so consider that too." She added that this is a very caring community and they definitely do care about their animals, which is awesome, as it makes their job much easier. Ducharme encourages people to adopt not shop.