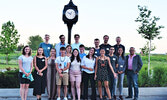 Sioux Lookout welcomes visitors from across the globe for Rotary Canoe Trip
Jesse Bonello - Staff Writer
This years' 27th Annual Rotary Canoe Trip welcomed 16 participants from across the globe to Sioux Lookout.
This year's participants are representing Hungary, Denmark, Turkey, Taiwan, Wales, Italy, Belgium, Norway, Czech Republic, Mexico, Spain, Russia, Switzerland, and England.
Participants spend their time training and learning canoe and wilderness camping techniques in Sioux Lookout before embarking on a week-long canoe and camping trip.
Participants shared that they're excited to go on the trip to see the wildlife and outdoors that Canada has to offer.
"I did some canoeing last year in Wales, and I really enjoyed it. I saw this canoe trip is well-known and has been long-running, so I thought it would be perfect," said Rhys Fairbrother from Wales.
"I've always wanted to explore the nature of Canada. I see pictures of it back home, and it always looks beautiful, so I'm excited to go see it now," said Vladislav (Vlad) Vasilyev from Russia.
"I like Canada. I came here for the first time earlier this year when I went to Toronto, but it's very different here. I'm excited to see the wildlife up here. Mexico is mostly jungle, and it's around 40 degrees right now. This morning felt freezing here," said Dylan Vera Jimenez from Mexico.
"My father is a Rotarian, so I've gone to a bunch of Rotary camps before. I was just scrolling through and saw this trip. I've always wanted to come to Canada, and it's cool to experience this with other people from around the world," said Michelle Serena Von Arx from Switzerland.
The Rotary International Youth Camp webpage describes the trip, "Sunday through Sunday the young people and leaders paddle 200-kilometres through north-western Ontario, boreal forest in two-person, aluminum canoes. Everyone participates in all aspects of the camping/canoeing trip including cooking, setting up tents, paddling, and of course, carrying equipment and canoes over the seven portages (the longest being 2.0 km). The scenery is spectacular; the group will travel through kilometre after kilometre of uninhabited (apart from moose, beavers, eagles) lakes and forest. Evenings around the campfire are memorable as stories are shared."
Participants shared excitement and anticipation when asked if they're looking forward to the new experience and surroundings.
"I love sports and I love challenges, so this canoe trip will be the perfect mix of that. I'm so excited," said Francesco Pedrini from Italy.
"I have two friends that came on this trip last year, and they told me I would love it. They showed me all the pictures and they talk about it all the time, so now I'm excited to experience this for myself and be able to relate to them," said Yi Ping (Apple) Chen from Taiwan.
"It should be a lot of fun. So far we all get along very well, and it's a fun group. There's a wide variety of countries represented, which is also cool. It's such a nice, green country so I can't wait to see more," said Christoffer Broedsgaard from Denmark.
The international youth will be wrapping up their trip on July 16 when they gather with their trip leaders, local Rotary members, and billet families for an international pot luck dinner. The dinner combines flavours from around the world, with each participant bringing a dish that gives others a glimpse of their represented country. The participants then head back home on July 17.
For more information on the Rotary Club of Sioux Lookout, visit the clubs website portal.clubrunner.ca/992/.