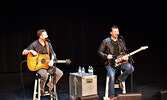 Sioux Lookout welcomes award-winning Canadian country music group
Jesse Bonello - Staff Writer
Award-winning Canadian country music group Doc Walker made their Sioux Lookout debut during their Sioux-Hudson Entertainment Series performance on Feb. 21.
The group, who is from Westbourne, Manitoba, said they've heard of Sioux Lookout and have performed as close as Dryden, so they were happy to schedule a Sioux Lookout performance.
"It's nice to finally get here. Even 20 years ago when we were playing bars, we heard about people going up to Sioux Lookout. We always played Dryden and Thunder Bay, so I'm glad we came up here… What a great crowd and what a great facility here," said Chris Thorsteinson, co-leader of the group.
"We grew up in farming communities and small towns, so for us to come here it's almost like you're coming home. It's a lot of fun," he added.
Their bio reads, "With over 20 Top 10 singles in total, Doc Walker is one of the most recognized Canadian country acts of the past two decades. The group has received multiple Canadian Country Music Awards, including Fans' Choice, Group or Duo of the Year, CMT Video of the Year, Single of the Year, and Country Music Program or Special of the Year. In addition, Doc Walker has been nominated for several JUNO Awards for Country Album of the Year, including a win in 2009 for the album Beautiful Life."
Doc Walker had the Sioux Lookout audience asking for more, as they gave the group a standing ovation that brought the duo out to perform an encore.
"I don't know these guys very well, but it was a pretty good show," said Blake Van Winckle.
"I loved it. I'll be buying a CD," said Lynda Landry.
"It was a great show. They were awesome," said Kathy Buccilli.
The two group members, Thorsteinson and Dave Wasyliw, said they enjoy performing as part of an entertainment series lineup because of the opportunity to introduce their music to audience members that are unfamiliar with the group or genre as a whole.
"We've done so many shows over the years where the usual suspects come out, and you recognize almost everybody. It's good that a concert series will bring out people because they have tickets to the series, and for us we have an opportunity to win over new fans," said Wasyliw.
"Usually at a concert series it's people that love entertainment. They buy the package because they want to be entertained, so for us, whether they know the band or not, it's awesome that there are people out there supporting arts. That's the most important thing," said Thorsteinson.
Both Thorsteinson and Wasyliw agreed that they'd love to come back to Sioux Lookout.
To see the lineup, ticket prices, and sponsorship opportunities, go to siouxhudsonentertainmentseries.ca.