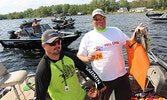 Sioux Lookout Walleye Weekend fishing tournament returns this summer
Reeti Meenakshi Rohilla -
Staff Writer
Sioux Lookout's 13th Walleye Weekend fishing tournament will be taking place on June 12 and 13.
With last year's event cancelled due to the pandemic, President of the Sioux Lookout Anglers and Hunters and Director of the Walleye Weekend, Cory Lago, shared that they stand better prepared to safely host the event this year. "They'll all be in the open air and they will still be in their circle. So, I think we can run it this year in a safe manner because we know the rules that the government has placed upon us. We have been through this for a year already…and hopefully we'll see a dip and we'll be in the green zone and everything will be good and people will be able to come and travel."
Sioux Lookout Anglers and Hunters and the Sioux Lookout Chamber of Commerce host the annual event, which takes place on Minnitaki, Abram, Pelican and Botsford lakes. Lago said that with one of the greatest fisheries in northwestern Ontario, this tournament benefits the community financially.
Lago said, "It's a phenomenal fishery, and we get people from the States come up. Probably not this year, but usually we have three or four teams come up from the States, people from Thunder Bay, Manitoba, Red Lake, all the surrounding areas. Probably about half of the participants are from out of town. So, its a good economic boost for the community."
Lago said that this year's event would be based around the COVID-19 regulations in effect at the time. There will be no rules meeting or awards presentation for this season. "It will just be a fishing tournament. Will get the boats checked in the morning, come back and get their fish weighed, and we'll mail the winners their money," he said. Lago added that a new set of rules would be emailed to participants shortly, with a few copies available at Al's Sports Excellence as well.
"It was fully booked for last season that was cancelled. Everybody that was in the tournament transferred their money to this year. So this one's been booked for a year and a half," said Lago. Any spots that may become available will be taken up by people on their wait list. The tournament consists of 75 teams each year, with a winning cash prize of $21,000. Lago shared that 70 percent of the money raised goes back to the prize money, and the Sioux Lookout Anglers and Hunters use the remaining 30 percent towards other events they conduct year-round. Lago shared that he looks forward to having a successful event this summer.