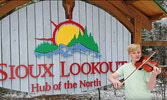 Sioux Lookout violinist Meritt Penner featured in TBSO's virtual concert
Reeti Meenakshi Rohilla -
Staff Writer
Meritt Penner, a 14-year-old musician from Sioux Lookout, was featured as a guest artist in the Thunder Bay Symphony Orchestra's (TBSO) virtual tour this summer.
Penner, who started taking piano lessons at the age of four, enhanced his passion for music, beginning violin lessons at age seven. He said about this year's concert, "I practiced for about one month in advance with my teacher, his name is Thomas Cosbey," adding, "I had to work a lot on how it sounded with the phrases and stuff to make sure it was the best quality of sound I could make."
TBSO's Marketing Manager/Front of House Manager, Krysta Piaskowski said, "It was a great opportunity for us to add some local flavour to these performances. We were thrilled with Meritt's contribution to our Sioux Lookout concert! We think he is incredibly talented, and the members of Sioux Lookout really enjoyed seeing him perform. He was the only local artist from Sioux Lookout." She added, "We had a total of six guest artists for this year's Virtual Tour. They were recommended to us by various local contacts in the communities we typically tour in. Some of them are also students of our musicians."
Funded by the Ontario Arts Council, this year TBSO is conducting 19 streaming concerts, travelling to 24 different communities virtually between May 25th and June 14th. The Sioux Lookout virtual concert conducted on May 31 ran for about an hour, presenting a total of 12 classical pieces. Penner featured in one of the pieces played by the Symphony.
While Penner has performed with TBSO twice in the past, this year was a different experience for him with the concert being conducted virtually for the first time. He said, "I recorded it in my house and sent it…so it was all virtual." He added, "They used the videos just to see me playing. We first recorded an audio track. In the same way that things make music videos."
Penner explained that the audio track for his song named Hirondelle, was separately combined with visual shots of him playing the violin outdoors, to ensure best possible quality for both audio and video production. Penner shared that while it was somewhat challenging to focus on creating the video outdoors, the virtual creation saved him from the nervousness of performing live in front of an audience.
In past years, a TBSO season would include an east and west tour, with artists travelling to different communities in the region to play a custom concert, shared a TBSO media release. It added that this orchestra is the only fully professional organization between Toronto and Winnipeg, offering residents an opportunity to enjoy the symphony's performances in their home communities. This year, amidst the pandemic, it wasn't possible to physically travel to different communities to perform. This resulted in virtual concert performances as far west as Kenora, Red Lake, and Fort Frances, and as far east as Cochrane, Kapuskasing, and Chapleau, shared the media release.
Piaskowski said, "The concert was very well received and had a great turnout. We're constantly getting virtual audience members connecting with us to say how glad they were that we decided to have a virtual option this year since an actual tour wasn't going to be possible. Music has really helped people through this chaotic and unusual time."
The concert will be available to view online at tbso.ca after the virtual tour concludes.