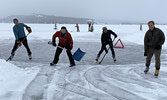 Sioux Lookout Skating Trail ready for another year of fun
Tim Brody - Editor
Sioux Lookout's skating trail is up and running for its third year.
Dr. Ruben Hummelen, who began what has now become a tradition in Sioux Lookout, said this year's trail will be even bigger and better than ever before.
"Please come, put on your skates, bring your sled, come for a hockey game every Saturday, or just come and skate around. If you do happen to have a shovel and you want to pitch in, some shoveling is much appreciated," Hummelen said.
Stretching from the new floating docks by the town beach to the end of Ethel Street, the trail is about a kilometre and a half long.
"People can enter at Ethel Street or Government Row, or over at the new dock," Hummelen explained.
Work to prepare the trail started over a week ago, when Hummelen measured four inches of ice.
"There are lots of people wanting to help all the time," Hummelen said. Trees lining the trail were provided by Al Howie. Much of the trail was cleared by Barry King.
"There's lots of enthusiasm by people to continue on with this, so I hope we can keep it clear until at least the end of January," Hummelen said.
"If you drop by at around 4 (p.m.) every Saturday, there is typically some hot chocolate, milk around, plus a fire. The future also, for this year, is a big luge on the Government Row hill… and hopefully we can get some trails also for people to ski on," he shared.
Hummelen asked that people adhere to physical distancing public health measures when out on the trail.
He asks that people not bike or walk on the trail.
The idea for the first Sioux Lookout Skating Trail came into being when Hummelen and his son wanted to skate to a friend's house, "We were hoping to visit friends over at Lake Street and I shoveled myself a trail to go over there with my son, and that became the very first Sioux Lookout Skating Trail. The hope is that this will be something that the community can enjoy every year," he concluded.