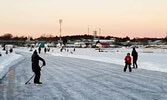 Sioux Lookout Skating Trail gaining popularity with warmer temperatures
Reeti Meenakshi Rohilla -
Staff Writer
The Sioux Lookout Skating Trail is increasingly gaining popularity in the community as people enjoy skating along the trail amid recent warm temperatures. Dr. Ruben Hummelen, who has been preparing the trail for three years now, said, "It's gradually getting more popular, which is great. We've been lucky because there hasn't been much snow. So, keeping it clear is pretty easy. It's still going and I do think perhaps even into the month of February, we might still have that trail."
Hummelen said, "The Municipality has been very supportive of the trail and they indeed are now welcoming us to use the docks. We need to be very careful when we use our skates on the docks and make sure that the docks are undamaged."
Municipal Clerk Brian P. MacKinnon shared with The Bulletin, "The Municipality is pleased to see that a volunteer group has, once again this year, taken on the challenge of developing and maintaining the Pelican Lake Ice Trail, and applauds their efforts and commitment. The Municipal docks, accessible from Honey Lane, are not closed to public use at this time. We do, however, encourage all skaters to exercise caution by whatever means they use to access the trail, and that use of the trail, including whatever route they use to access the trail, is at the individual's own risk."
Hummelen said that about 50 to 60 people throughout the day use the trail. He added, "There are lots of people that keep coming back, just because that's the place where they go to skate and sledge now." Hummelen said that the community has been very supportive with helping shovel, bring Christmas trees to mark the trail, or just clear the rink where kids play. He especially acknowledged and appreciated the efforts put in by local residents Barry King, Alan Howie and Stephen Bay, to help keep the trail open.
Hummelen said that they have also received offers to help clear the trail with a truck once the ice is thick enough. He added, "It seems like we have enough options to keep the trail open if there is a bit more snowfall." Hummelen said that with a little parking lot and lights at night, the floating dock at Honey Lane seems to be the most popular way of accessing the trail. The other entrance is on Government Row or on Ethel Street.
Hummelen invites all community members to come and enjoy the trail. He said, "We are always happy if there are people that want to be involved in organizing the trail, as well as people who have ideas for next year. Next year, hopefully the beach will be open and we'll be able to access the trail from the beach, hopefully extending to Ethel Street." Anyone interested in contributing can reach out to Dr. Ruben Hummelen via his account on Facebook.