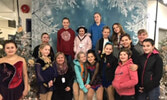 Sioux Lookout Skating Club well represented during Fort Frances competition
Jesse Bonello - Staff Writer
Fifteen Sioux Lookout skaters participated in the Fort Frances Freeze Skate Ontario competition on Jan. 25 and 26.
Skaters participated in a variety of events including Free Skate, Elements, Creative, and Interpretive.
"A number of bronze, silver and gold medals and ribbons were achieved. We have four skaters in Star 5 and 6 who are attaining high points to be chosen to attend the Provincial Championships in Mississauga in March…Congratulations to Peyton Markewich who earned a Silver placement in her Star 1 Free Skate and to Angelina Positano who skated her very first competition, beating her nerves and she placed in bronze level," shared Sioux Lookout Skating Club coach Lynn Traviss-Thompson.
Moving forward, skaters are gearing up for more competition action in the near future.
"The club will be sending 14 skaters in Star 1 - 4 to the Futures Competition in Kenora February 17. Brenda Linden will be participating in the Special Olympics portion of the event which is very exciting. Twenty-one skaters will be participating in the Thunder Bay Open Super Series on March 2 and 3," Traviss-Thompson concluded.