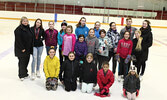 Sioux Lookout Skating Club members continue to bring home the hardware
Tim Brody - Editor
Twenty skaters from the Sioux Lookout Skating Club recently competed at the Thunder Bay Open competition.
Coach Lynn Traviss-Thompson shared, "The skaters that competed, Star 1 through 4, for elements, solos, and creative improv. We earned four gold, 16 silver, and 16 bronze."
Senior skaters also performed well.
Briley Haney earned a fifth place, Gracie Rose earned a seventh, Leta Meekis placed sixth in her solo, fifth in her elements, and seventh in interpretive. Kayleigh Bates, in her interpretive, got a bronze medal and placed sixth in her solo program. Emma Bates placed sixth in her solo, fifth in interpretive, Aubrey Bates placed third in her solo, and fourth in interpretive, and Luke Bates placed first in his solo, and second in his interpretive.
Traviss-Thompson added, "He also achieved his gold level interpretive and so did Kailey Barnes. She is probably one of the youngest skaters from the club that's achieved a gold level test. She's only 14. So that's pretty good!"
"I spoke with a judge/evaluator, international level, and she was evaluating the kids in their tests; she was very impressed with the kids from Sioux Lookout… they're being noticed," Traviss-Thompson said. "I think that's really important for people to know that, even at our CanSkate level, we're doing a really good job and we're meeting the standards just like everybody else in Ontario and with Luke going to provincials, and not having the people to compete with (locally) and to see what his competitors are dong and to maintain his marks, is amazing… I'm ecstatic with how the kids did!"
Adelaide Meekis, 11, earned a bronze in her elements, a bronze in her solo and a silver in her creative improv.
"It was fun," she said. Noting she practiced really hard for the competition.
In addition to the fifth place she earned in her solo, Briley Haney, 12, earned a silver in her interpretive skate.
"I put in a lot of hard work to get ready. I missed a lot of skating because I broke my wrist. I worked really hard," she shared, adding it felt good to do so well.
Ruth Broderick, 15, brought home interpretive gold and a solo silver.
"It felt pretty good and now I know I can move up to the next level," she said.
Broderick said she and the other skaters in the club put a lot of hard into practising each week.
"I'm exhausted by Friday. We skate almost every day of the week. It gets pretty tiring, but I think it's worth it. I love skating."
Leta Meekis, 15, jumped up two levels this year.
She placed sixth in her Free Skate and her Bronze Interpretive.
"It wasn't my best, but I think I did pretty well for moving up," she said with a grin.
"I'm really proud of myself… I actually improved my score from last competition," she added.
"I had only moved to Sioux Lookout four years ago. I started figure skating then and I felt like I was so welcomed. It was a great opportunity to make new friends for me. I really like it. They're like my second family," she confided.
All four girls said they, and their fellow skaters, are looking forward to the club's year end ice show, which will be on April 6 at 7 pm and April 7 at 1:30 pm.
The Sioux Lookout Skating Club boasts 120 skaters this year across all of its levels and programs.
"There' s lots of clubs out there who are struggling. We work hard here and our executive and myself, we all work together as a team to really make sure we have really good programming," Traviss-Thompson explained.
Looking back on the season she shared, "It's very exciting when the kids go out to skate. Some will come off the ice and think they did the worst job ever, however, I think that they're their own worst critics. When their results come out, they see how well they've done. It's exciting to be a part of that. To have them run up and saw, "look at my report!" To be a part of all of that is fun… I have a really great group of kids here!"