Sioux Lookout Skating Club members are "Stars on Ice"
Tim Brody - Editor
The Sioux Lookout Skating Club presented "Stars on Ice" on April 1 at the Sioux Lookout Memorial Arena, putting their skaters in the spotlight and giving them an opportunity to show off their progress and skills and abilities to their families and the community.
CanSkate and StarSkate skaters performed in groups and in solos during the ice show, a 50th anniversary special.
CanSkate skaters said they had a great time.
Jasmine Esposito, 6, said of taking part in the show, "It was really fun."
"I get to see my friends and it's a really fun activity," she said of the sport.
Jaissa Flatt, 8, said of what she enjoys about figure skating, "The games, skating fast, skating backwards."
She said it was fun, but a bit scary performing in front of the crowd.
Kayla Usher, 9, said it was really fun being in the show.
Her sister, Julia Usher, 12, said she was a bit nervous, but skating with her friends gave her the confidence she needed to skate her best.
Rilynne Cospito, 8, said of being in the show, "It was kind of scary, but it was also fun"
She said of what she enjoys about the sport, "I think it's all the fun things you get to do."
She said she was especially proud of the improvements she's made this season skating backwards on one foot.
Stars Skaters also said they had a good time during the show.
Adelaide Meekis, 15, shared, "We had all of our other senior skaters and friends and they were really supportive. I think it was really fun. We had so much fun today, together. We had so much fun picking our music and setting up and even taking down. We always have so much fun doing it, just the entire thing."
Asked what she is most proud of accomplishing this past season, she said, "I've got to say one of my moves that I did, I did a spiral, the one where you put your leg up, and I was working really, really hard on that. I got a lot of compliments on it. I wanted to make sure for this ice show that it was absolutely perfect."
Geneva Otto, 15, said of the taking part in the show, "It's definitely a fun process. It's something that I look forward to every year, finding our music and putting together our programs and line numbers are especially a lot of fun, working together with each other. It's just really exciting to see the crowd's reaction to what everything turns out to look like in the end."
Asked what she is most proud of accomplishing this past season, she shared, "There is this one spin that I did. It's called a bullet spin. It's basically like a really, really low sit spin, and it is really hard because you need to be perfectly balanced for it or else your edge will catch and you'll fall. I was working really hard on that all year long and I'm very happy that it turned out nicely in the ice show."
For Aubrey Bates, 17, this was her last year skating competitively with the club and her last ice show.
"I started CanSkate when I was three and I have skated every year since then, so this season was my 15th year being with this club. As I retire as a competitive skater this year, I went to my last competition and actually got first in my event (Star 5 Women's Free Skate), which was pretty cool. So, I'm retired from competitive skating but I'm hoping to get my CanSkate so I can continue to teach kids on this ice."
She said of taking part in her last ice show as club skater, "It was really enjoyable. It was a bittersweet moment because I grew up with a bunch of these kids so, a bunch of us senior skaters are done this year, we're going off to school, doing other things, it was special, but it was also sad at the same time."
Sioux Lookout Skating Club President Kim Savoie said it was a phenomenal show.
"I think without the commitment and determination of our skaters we could not put such an event on and also the commitment and support we have from our volunteers, parent group, executive, makes things like this happen in our community. Also, a special thank you to the community that comes out and supports and cheers on our skaters."
The club celebrated its 50th anniversary this season and Savoie said she can see the club celebrating even more in the upcoming season. "That we've been a club for 50 years is definitely something to recognize."
Some skaters in the club will be taking part in a spring training session from April 11 to 21 with Coach Lynn-Traviss-Thompson to fine tune their skills and strengths in preparation for some assessments taking place on April 21.
Looking back on this past season, Savoie said, "I think our skating club is slowly getting back to the regular season. We have done a wonderful job getting back on track. The skaters love being back on the ice for a regular season. They've loved being able to compete in competitions like they did in March."
Approximately 50 skaters were part of the club this past season.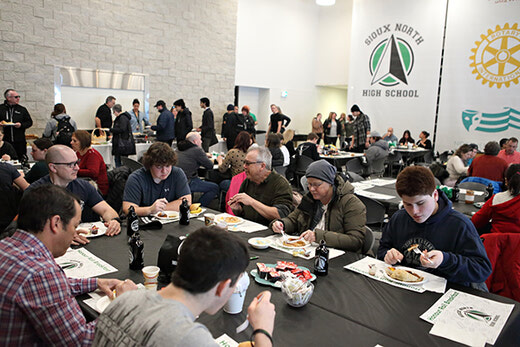 Tuesday, April 4, 2023
Sioux North High School (SNHS) celebrated their Honour Roll students with a special breakfast on March 23 in the school's cafetorium...