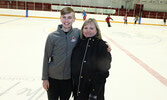 Sioux Lookout skater Luke Bates competes against province's best
Tim Brody - Editor
The Sioux Lookout Skating Club can proudly boast of having one of the best male skaters in the province among its ranks.
Luke Bates, 16, recently represented the club at the Skate Ontario Provincial Championship, which took place March 7 - 10 in Mississauga

Skaters had to qualify to compete in the Star Six Men's Free Program. Bates' was one of the 12 who made the cut provincially.
His coach, Lynn Traviss-Thompson, shared, "Luke skated a clean performance on Friday. It was great for him to skate again with all these male skaters. The experience alone was fantastic and he has set some new goals for himself moving forward, in fact he is a bit sad that the skating season is over."
She further commented, "As his coach, and having the opportunity to travel and speak with other coaches, the support that he did receive from much of the Southern Ontario boys was amazing and they were all very happy to see him back again this year. Here's to next year!"
Bates' mother Becky said she was thrilled her son had earned this opportunity.
"Just the whole experience, to get to go and be with the best of the best in Ontario is fantastic."
This was Bates' second consecutive year qualifying to compete at the provincial figure skating competition.
"It's amazing. I can't believe it. It's a great experience coming from a small town, going down to Mississauga, competing with guys from all around the province," Bates' shared just before he left.
"Last year, when I came home from provincials, I had the mindset of preparing for next year. The whole year has been in preparation of this event," Bates added.
Commenting of his program, he shared, "You have five jump elements and two spin elements. There's double jumps you can attempt in them. In my program I have a couple jumps. We've adapted my program so I will score the highest points."
"There's definitely been in improvement in my skating since last year thanks to Lynn," he added.
Preparation for his successful attempt to reach provincials this year included lots of off-ice conditioning and training. On-ice training multiple times a week, working on new elements and perfecting elements he already excelled at.
Bates had less than a week to perfect his program from the time he found out he'd qualified, to actually stepping out on the ice and competing.
Traviss-Thompson said Bates should be very proud of himself, adding he is a tremendous role model to his fellow skaters in Sioux Lookout.
"I think having him as a role model, I think when you look out on the ice surface, I can tell you that we are probably the only club that has four male skaters that aren't in CanSkate. Because he is such a performer, in Thunder Bay even, there were so many coaches and people that wanted to watch Luke compete to support him. I think all of these kids here really idolize him. He's just got that personality about him. Kids love him. Parents love him."
Community members will be able to watch Bates skate during the club's end of year ice show in early April.