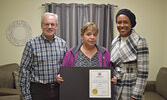 Sioux Lookout Sexual Assault Centre hosts grand opening
Jesse Bonello - Staff Writer
The Nahnahda-Wee-ee-Waywin Sioux Lookout Sexual Assault Centre, which is located at 59 King Street, hosted their official grand opening on March 27.
Executive director Tana Troniak was joined during the grand opening by Mayor Doug Lawrance, Yolaine Kirlew representing Kiiwetinoong MPP Sol Mamakwa's office as his constituency assistant, Sioux Lookout Councillor Joyce Timpson, Ontario Provincial Police members, Kenora District Services Board staff members, Nishnawbe-Gamik Friendship Centre staff, and First Step Women's Shelter staff among others.
"We started moving in here in June. We're still new and still have lots of posters to get up north, but I thought we better do some kind of opening so people know that we're here," said Troniak.
"The services we provide are one-on-one counselling, crisis intervention, advocacy, court advocacy; we have a toll-free crisis line, and case management. We also offer healing circles through our partnership with the Friendship Centre," she added.
Troniak also mentioned funding was received through the Ministry of the Attorney General, Indigenous Justice Branch.
During the grand opening, members of local and provincial government shared their excitement for the grand opening, along with the seriousness of the issue at hand.
"The first thing we can all be sad about, in the midst of being happy to provide services, is the statistics are so high and it's under-reported even at that… This is a community safe space to ensure that any victim, woman, man, or youth, could come here," said Mayor Lawrance.
"On behalf of MPP Sol Mamakwa, I wish you all congratulations. As we celebrate the opening of the centre, Nahnahda-Wee-ee-Waywin Sioux Lookout Sexual Assault Centre, we are reminded of the importance for safety of our community members… On multiple levels, there is tremendous cause for celebration today," Kirlew shared on behalf of Mamakwa.
Troniak said she hopes that more people will be aware of the new space and the wide services they offer, which covers all genders and ages.
"It feels good. I really hope it gets more information out there to people that we're here. We also have domestic violence and sexual assault services for men, so we've really tried to expand the services to meet everyone's needs," she concluded.
For more information or resources, call 807-737-4848 or check out their Facebook page by searching @NahnahdaWeeeeWaywin.