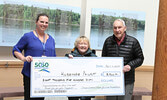 Sioux Lookout resident wins latest SLMHCF 50/50 charity draw
Tim Brody - Editor
Sioux Lookout Meno Ya Win Health Centre Foundation's (SLMHCF) monthly 50/50 charity draw took place on April 4 and Rosemarie Philpott from Sioux Lookout was the big winner, taking home $8,560.
Philpott said she was delighted to win, adding that she regularly purchases tickets to support the health centre and health care in Sioux Lookout.
"Our purpose has always been to raise money in order to provide funding for medical equipment, education, special treatment programs and capital building funds for the Sioux Lookout Meno Ya Win Health Centre," SLMHCF's website states. "Since our inception, and with the support of our donors, we have raised more than $5 Million to enhance health care in Sioux Lookout and the north. Our greatest achievements include raising $2.5 million for the local share of the new hospital project, more than $1.8 Million for a CT Scanner, and more than $400,000 to ensure year round mammography services at Sioux Lookout Meno Ya Win Health Centre."
Melissa Slade, Donor Relations/Operations Coordinator, SLMHCF, said it was nice to someone local win the most recent draw, "I know our winner was chatting today and mentioned this is something she purchases on a regular basis as well, so lovely to see the support from the community in those ticket purchases and really lovely as well to see someone local win the prize this month."
Slade is advising the community of changes to the 50/50 charity draw, which are now in effect.
"Starting today (April 4) we're kind of revamping, reinitiating, kicking off some changes that have happened. The draw opened at noon today (April 4) and so as some people have noticed, today's draw happened on a Tuesday as opposed to the regular Friday and that's going to be one of our changes that happens going forward. We are actually changing our draw date for the grand prizes each month to be the first Tuesday of each month."
With other regional hospital 50/50 charity draws taking place at the end of the month, Slade said, "If you didn't win on one of the other two, it still gives you time to buy some final tickets on this one."
Tickets can be purchased at the Foundation office and online https://foundation.slmhc.on.ca/50-50-draw/. Tickets can be purchased using cash, debit, or credit card.
Slade added she will also be attending local farmers' markets and other events to conduct ticket sales.
Another change people will notice is a new $50 option for 450 tickets. The $5 option has been removed.
"Hopefully that helps to increase the pot and sweeten the deal," she added.
The next jackpot draw is already underway with the draw taking place on May 2.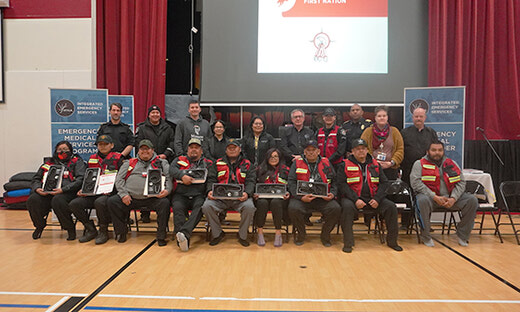 Tuesday, April 11, 2023
The recent tragic house fires and loss of life in the First Nation community of Pikangikum has put yet another spotlight on the need for proper emergency medical and fire response in remote communities...