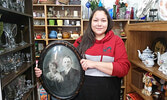 Sioux Lookout resident reunited with family heirloom
Jesse Bonello - Staff Writer
After seeing a Facebook post from Sioux Lookout Salvation Army volunteers, Sioux Lookout resident Hannah McKay was reunited with a family photo that was missing for over a decade.
The photo, which ended up in a Salvation Army donation bin, featured her great-grandparents Myrtle and Victor Gagnon.
"I actually don't really remember that photo because it went missing around 15 years ago, so when I saw it I thought that it kind of looks like my grandfather. The person in the photo is my grandfather's dad, so I sent that to my mom who is in Thunder Bay at the moment. She recognized the photo and was really excited… It went missing in a house flood and we lost a lot of family photos and heirlooms. It was gone for over a decade," said Hannah McKay.
"They (Salvation Army) said it was dropped off in the donation bin, and they were planning on throwing it out but they decided to post it on Facebook just in case," she said.
"Somebody donated that picture and the Monday morning sorters didn't really know what to do with it… I thought it would be a shame to get rid of it so I said I'll try putting it on Facebook. There's a Sioux Lookout page on Facebook called SLKT, and a lot of older people that used to live here are connected to that page and it has a lot of old pictures of Sioux Lookout , so I posted it on there and I posted it on the Sioux Lookout & Area Events & Services page. The post didn't get approved until seven the next morning and by nine I got a message from Hannah saying it was her great grandparents," explained Carol Maxwell, Sioux Lookout Salvation Army volunteer.
"The whole Salvation Army chain, we always have these kinds of stories that keep you motivated to keep doing what you're doing because it's a lot of volunteer hours… It was good. I was so glad because I'd have a hard time throwing that picture out. I like old pictures of families, so I don't know how long we would've kept it for but, eventually, what are you going to do with it?," said Maxwell.
McKay explained that, because her mom was originally from Quebec, there was a good chance that no one in Sioux Lookout would've been able to recognize her great-grandparents in the photo.
"My mom was a nurse and she went up north for nursing and she met my dad and ended up living here (Sioux Lookout). She was originally from Quebec, so if I didn't see that post nobody would've known because those people were also from Quebec. It just would've went in the garbage if I didn't see it," she said.
"I know who her mom is and I know her mom was a nurse in the north, so nobody in Sioux Lookout would've known who these people were because they weren't Sioux Lookout people," said Maxwell.
McKay said she is thrilled to have the photo back in the family. She said it gave her a new-found hope that she might also find the other heirlooms and photos that went missing in the house flood over a decade ago.
"It's really nice to have it back. It's a really nice keepsake. I never got to meet them and I never really got to know that side of the family, so it's nice to have an heirloom like that to pass on to my kids," she said.