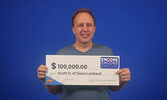 Sioux Lookout resident celebrating $100,000 ENCORE win
Tim Brody - Editor
Saying "yes" to ENCORE paid off for Sioux Lookout resident Scott Dell, who matched the last six of seven ENCORE numbers in exact order in the June 20, 2022 DAILY GRAND draw to win $100,000!
"I was checking my tickets at the grocery store when I saw the big winner screen. I didn't think it was right, so I checked it again and then pulled out my phone to triple check," Dell shared while at the OLG Prize Centre in Toronto to pick up his winnings.
Dell plans to use his winnings for his child's education, makes some investments and plan a trip to celebrate. "It feels amazing. I never dreamt I would win. I will keep playing in hopes it happens again – but if not, I know my money will go back to Ontario," he concluded.
The winning ticket was purchased at Fresh Market Foods.
Tuesday, March 7, 2023
Tikinagan Child and Family Services is honouring more than 370 foster parents across 30 First Nations during Foster Parent Appreciation Month in March, however the agency says there's still a need for more Foster Parents...