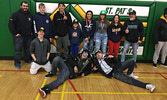 Sioux Lookout represented by young wrestlers at multiple tournaments
Jesse Bonello - Staff Writer
Elementary and high school wrestlers in Sioux Lookout represented the community during tournament action at the Ontario Winter Games and OFSAA (Ontario Federation of School Athletic Associations).
The OFSAA wrestling tournament took place from March 2 to 4 in Sault Ste. Marie, and the Ontario Winter Games took place from Feb. 27 to March 2 in Orillia.
"It's an exciting experience, and this is probably one of the most successful years we've had. It's a great opportunity for the kids because the Ontario Winter Games has 3000 athletes, they have a two-hour opening ceremonies with a laser show, and so it's a really big deal. It's not just wrestling; it has all kinds of different athletes from all over," said Rob Sakamoto, Sioux North High School (SNHS) Warriors Wrestling Coach.
"For OFSAA, this region is not an easy region to get out of to get there… The ones who qualified for OFSAA, they earned it. It's incredible. It's 35 to 40 kids per weight class with 1500 athletes. It's almost like the Olympics. It's amazing, so it's going to be an incredible experience for the kids as well," he said.
Athletes aged 12 to 18 years old are eligible for the Ontario Winter Games, which allowed elementary wrestlers to participate. Some SNHS students participated in both OFSAA and the Ontario Winter Games.
Prior to leaving for the tournaments, the local wrestlers said they were excited for their opportunities.
"This was my first year. It's pretty awesome. Wrestling makes you work really hard and it toughens your mind too… I'm going to OFSAA. I'm pumped and ready," said Tyson Meekis, grade 11 SNHS student.
"I'm going to the winter games. I'm nervous and excited… Wrestling has been really fun, and it would be cool to see more people join," said Ashton Lapworth, grade nine SNHS student.
"I was thinking about wrestling last year, but this was my first year. When I first joined I was really excited… I'm going to both the winter games and OFSAA. It's really exciting. For OFSAA, I had to go through three matches to qualify. I ended up losing one, but I won the other two to secure my spot," said Keegan Wesley, grade 10 SNHS student.
"This is my first year wrestling, and it's been a lot of fun. We've had some pretty good training with a lot of cardio and a lot of strength exercises. I really want to wrestle for the rest of my high school career," said Chloe Lavallee, grade 10 SNHS student.
"I'll be at OFSAA. I have to cut some weight, so it's going to be a lot of working out before OFSAA. I'm scared because I know there's going to be some really strong people there, but I'm excited to try it out in my first year," she said.
"I started wrestling three years ago in the elementary program. I'll be heading to the winter games, which is exciting… I want to keep wrestling as I get older and into high school," said Evan Burch, grade seven student at Sacred Heart School.
"I've been wrestling since grade five. I'm excited to compete at the winter games. I had some exhibition matches this year, and it's been pretty good. I'm looking forward to continuing wrestling as I get older too," said Omi Sakamoto, grade eight student at Sacred Heart School.
"This is the first time I haven't made OFSAA. I've qualified for OFSAA three times and went twice, so it was lots of fun to be able to go down and compete at that level (in past years)," said Gabriel Otto, grade 12 SNHS student.
"I wrestled a bit in grade nine, but then I stopped and I joined up this year again. There's a bunch of new faces and some old faces. It's great to see that the team is growing and improving… It was a great season," said Dylan Bottle, grade 12 SNHS student.
"Dylan had one of the biggest weight classes of the tournament, and he came so close to making OFSAA. He knocked out four of the guys in his category. If he had one more win he would've earned a spot at OFSAA. For a new wrestler, it was amazing," said Rob Sakamoto.
Along with coaching the SNHS wrestling team, Sakamoto leads an elementary wrestling program that allows elementary school students to learn the sport for free. He said he loves seeing local youth enjoy learning the sport, whether they decide to continue to pursue it or just enjoy it as an activity.
"That elementary program, since we started, has been awesome. Even if they don't continue to wrestle in high school, it's nice to see the smiling faces getting involved in a free activity. I'm the head coach, but we also have an incredible coaching staff. The majority of them are ex-wrestlers that have come back to pay it forward. We have Levi Melnichuk, Dano Tornholm, Julian Cospito, and Craig Burch has been helping out too, so I think that's where we see successes with all these guys giving back and paying it forward," said Sakamoto.
"Our two wrestlers from the elementary program are awesome. They have a ton of potential, and they're going to go far. It's unfortunate that, in both their weight classes, they didn't have anyone to wrestle so it's just exhibition with kids that are much heavier than them this year," he added.
Sakamoto said he plans on running the elementary wrestling program throughout the spring, starting right after March Break.
"We're going to be starting it up immediately after March Break. The actual date hasn't been nailed down yet, but it'll be that first week after March Break. We'll run it until probably close to May. We're going to run it at the Sioux North gymnasium twice a week. Depending on the elementary striking, we usually go down to Thunder Bay and compete in a huge tournament down there with 800 kids. That's our goal for the end of the season," he said.
For more information, or to stay up to date, check out their Facebook page Warrior Wrestling Club-Sioux Lookout.