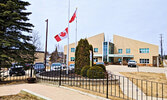 Sioux Lookout remembering lives lost in Nova Scotia
Jesse Bonello - Staff Writer
Community members, local leadership, and the Sioux Lookout OPP detachment honoured and remembered the lives that were lost during a mass shooting in Nova Scotia on April 18 and 19.
The CBC reported that, according to Nova Scotia RCMP, at least 22 people across six communities were killed over a 13-hour span.
In a letter to the communities located within Colchester County, Nova Scotia, Sioux Lookout Mayor Doug Lawrance penned condolences on behalf of the Municipality of Sioux Lookout.
"Please accept our community's heartfelt expression of compassion and sorrow to all the people in your community. The death and tragedy caused in your community by the senseless action of one man are incomprehensible. Like your community, Sioux Lookout is small and we understand how tragedy can ripple through an entire community. The close relationships of a small community mean that many are impacted. It also means that there many to support those most deeply impacted. This will be happening in your community. Please know that although we are thousands of kilometers away, our thoughts as fellow small town Canadians are with you and all the people in your community. The words in John Donne's 'For Whom the Bell Tolls' come to mind. To paraphrase – no-one is an island, entire of themselves, we are all connected, each person's death diminishes us… we ask not for whom the bell tolls, it tolls for each and all of us. Our Municipal flags are flying at half-mast this week to honour all impacted by this tragedy," Lawrance stated in his letter.
Sioux Lookout OPP confirmed that their detachment, along with Pickle Lake OPP, have sent their salutes to the RCMP and those effected by the tragedy. Among the shooting victims was RCMP Constable Heidi Stevenson, who was a member of the force for over 20 years.
"The Sioux Lookout OPP and Pickle Lake OPP have sent salutes to the RCMP after this tragic event… Our thoughts are with all the officers involved, as well as the families who were impacted by this senseless violence," said Sioux Lookout OPP Constable Andrea DeGagne.
St. Andrew's United Church confirmed in a Facebook post that they set up a memorial in their Peace Garden to remember all who have been affected by the shooting.
"Although the St Andrew's Peace Garden is out of bounds for visitors, and therefore we cannot hold a vigil for all those affected by the tragedy in Nova Scotia, there is glass container with lights - in lieu of a candle - and a message that offers love and strength and courage in solidarity. This will stay for the rest of this week as our way of caring in place of the vigil which our community most certainly would have held," the Facebook post read.
"Often, the community and churches have done something. In the past, weather permitting, we've gathered in the Peace Garden and held a vigil. Since we couldn't do that I thought I would place a candle because across the country people were being asked to do that… I put some battery operated LED lights there," said Aileen Urquhart, St. Andrew's United Church member.
Drayton Cash and Carry confirmed they put up a memorial at their store as well.
"I cut out 22 plaid hearts with a Nova Scotia tartan on them as the background and put them on my front window at my store… I'll leave them up for a while. I don't have a specific take down date in mind right now, so at least a week if not a little longer because it takes a lot longer than that for this to fade," said Dorothy Broderick, Drayton Cash and Carry Owner.
The death toll from the rural Nova Scotia shooting surpasses the 14 victims killed in the 1989 Polytechnique massacre in Montreal, making it the deadliest mass shooting in Canadian history.