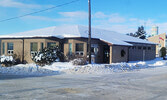 Sioux Lookout Public Library hires new CEO/Chief Librarian, hopes to reopen in January
Mike Lawrence -
Staff Writer
The Board of the Sioux Lookout Public Library has announced the hiring of a new CEO/Chief Librarian, bringing it one step closer to opening its doors to the public once again.
In a news release, the Board shared, "The Board of the Sioux Lookout Public Library is pleased to announce the appointment of Emily McIntyre to the position of CEO/Chief Librarian."
The release continued, "Ms. McIntyre will be known to high school students and parents in Sioux Lookout for her previous work as the librarian at Sioux North High School, where she gained experience in collection management and the development of new library resources responding to community needs. Her accomplishments there included increasing library participation by responding to the diversity and literacy challenges within the student body, enhancing the library's role as a "safe space" within the school and coordinating and collaborating with school libraries within the district.
"Ms. McIntyre brings to the position a welcome self-reliance in IT, proficiency in database and document management and tracking systems as well as skills in forming community partnerships and administration. She is also adept with social media, increasingly important to the library's work. Ms. McIntyre holds both BA and BEd degrees from Lakehead University. In her previous work with the Ministry of Tourism, Culture and Sport, Ms. McIntyre developed valuable skills in inter-organizational cooperation, facilitation, capacity building and funding."
Commenting on the hiring, Board member Robert Labossiere stated, "We are extremely fortunate to have found a local candidate who understands and has experience working with our community and has skills that fit extremely well with the library's strategic goals."
McIntyre will take on her new role this month and will spend some time working with former CEO and Chief Librarian Wendy MacDonald, who had stepped in as Interim Manager in August this year.
At this time the library continues its search for a local candidate to take on the position of Assistant Librarian. Once the library reaches its full compliment of staff, the expectation is that it will then be able to re-open to the public, hopefully in January.