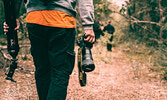 Sioux Lookout Photography Group gearing up for busy 2022
Mike Lawrence - Staff Writer
The Sioux Lookout Photography Group is hoping that the easing of COVID-19 restrictions will help revitalize its membership, after the pandemic forced many of its events and gatherings online.
As photography group founder and organizer Devon Opden Dries explains, things had just started to take off when COVID hit.
"I started the group in 2019, when I first moved to Sioux Lookout. I was looking to see if there were any clubs around and I couldn't see that there was one specifically for photography, so I just figured I'd create the group. I started asking around and created a Facebook page for it, and then invited people to join. From there, it got a bit of a following."
Opden Dries then sourced a location to hold gatherings where local photography buffs could meet and exchange knowledge and ideas, explaining, "I looked for a place that would allow us to have some meetings, and the Sioux Lookout Public Library was gracious enough to allow us to use some space there. Things kind of took off from there, but then during COVID everything just kind of slowed down." Opden Dries continued, "We had some good momentum, but then COVID hit. I tried to keep it going online but it was hard. I wasn't as excited about it anymore, because you want to get out and meet people and do stuff. We didn't really have a space to meet, and we couldn't meet in person, so we did a little bit online."
Asked why he felt having a photography group was important for the community, Opden Dries responded, "It's a great way for people to kind of connect and to share a common interest. To explore the arts a bit. We've had a lot of members. There's only a few that come out regularly, but we have a lot of people come in and out. People that have seen the different things we've done, that they want to explore. It's a way for people to try something new. I've had people message and say, 'Hey when are you doing a beginner's workshop?', or 'I want to get to know my camera better'. It's been pretty fun. Since I started the group, I've watched a couple of members that have come regularly improve. It's been really cool to see their photography skills take off. We had one member start her own business after being in the group for a while and you can see their photography skills just accelerate."
While the group may not have any sort of formal membership, preferring to use more of a drop in format, Opden Dries notes that the group's Facebook page has a solid number of followers. As Opden Dries explained, "It's hard to say what our membership is because we don't really have a formal 'You are a member, or you are not a member' group. But our photography page on Facebook has about 200 followers. And it's not just Sioux Lookout. We also have people from northern communities that follow what we do, and every once in a while, they share photos of what they are trying where they live, so that's kind of cool."
The hope is that the group continues to grow and attract new members. Opden Dries notes, "I think we are for anybody who is interested in photography. Even if they don't have a camera, we have the opportunity to allow them to practice with camera bodies that we have. They can't take them home but while they are with us, they can practice and get a feel for it. We cover all genres. We have experts at nature photography, portraiture, night photography… people are welcome to come and if they want to explore something, if they have ideas that they want us to try out, we are more than willing to cater to what people want to do."
Group meetings can, by necessity, occur a bit randomly due to the logistics of Opden Dries trying to juggle shift work and arrange meeting spaces. When the opportunity to get together arises, the date gets posted to the group's Facebook page, and on occasion also to the Sioux Lookout and Area Events and Services page if it's a bigger event that might appeal to a wider number of people.
Opden Dries stresses that while the group is on Facebook, their primary objective is to spend time exploring the hobby together in person, adding, "Although we are on Facebook the goal of the group is really to get out and meet. A lot of events are not necessarily going to be indoors. With the summer coming we are planning on doing more outings. We'd like to do portraits outside, go hiking… I don't want it to be specifically an online group. Basically, I just want it to be a group of people who love photography."
Updates and information regarding upcoming events can be found at the group's Facebook page, Sioux Lookout Photography Group.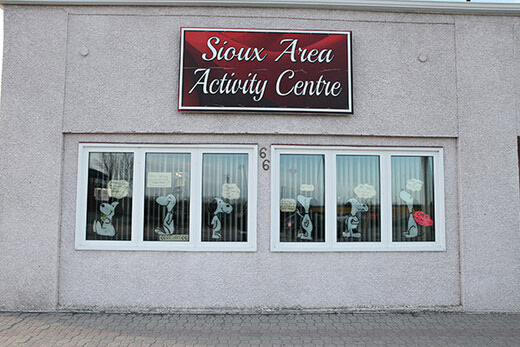 Tuesday, May 10, 2022
The Sioux Area Senior's Activity Centre recently featured a window display utilizing Snoopy to spread words of encouragement to passers-by.