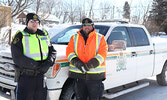 Sioux Lookout OPP, MTO conduct Commercial Motor Vehicle inspections
Tim Brody -
Editor
Fourteen charges were laid during a three day safety blitz (Feb. 25 – 27) conducted by Sioux Lookout OPP and the Ministry of Transportation in the Sioux Lookout and Pickle Lake areas.
"These charges are related to improper completion of pre-trip inspections, driver hours of work infractions, improper driver qualifications, improper equipment and vehicle registration, and unsecured loads," a news release issued by Sioux Lookout OPP informed.
Fifteen commercial motor vehicle inspections (CMV) were conducted during the three day safety blitz.
Sioux Lookout OPP Constable Matthew Price accompanied MTO Transportation Enforcement Officer Tom McKeon on February 27th, gaining experience in conducting CMV inspections.
"Inspections conducted during this joint initiative resulted in a 75% out of service (OOS) rate and five charges," the OPP news release stated of the February 27 inspections.
Police ask that anyone observing an unsafe commercial motor vehicle, or one with an insecure load, report them to the OPP or MTO Enforcement Division so they can be inspected.
"Approximately four million CMV inspections are conducted every year throughout North America to ensure the large trucks and buses driving on our roadways are operating safely. These Inspections reduce victimization on our roadways by ensuring CMVs are road worthy and operators are qualified and following legislated operation protocols," the OPP news release stated.
Further details on vehicle inspections is available at https://cvsa.org/inspections/inspections/.