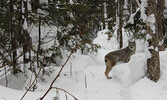 Sioux Lookout OPP issue warning after Lynx attack in residential area
Tim Brody - Editor
Sioux Lookout OPP are looking to educate the public on "how to prevent and manage conflicts with lynx" after being dispatched to a report of an encounter between a person and a lynx in the area of Millar Cr in Sioux Lookout.
The incident took place on July 27th at approximately 11:28 p.m.
Police say the victim sustained injuries as a result of this encounter and was transported to hospital for treatment. Officers patrolled the area but did not observe the animal.
The Sioux Lookout OPP would like to educate the public on how to prevent and manage conflicts with lynx. Ontario.ca has provided these helpful tips:
If you encounter a lynx, bobcat or cougar

Never approach the animal, especially if it's near a kill or with young.

Never offer it food.

Do not run, a cat's instinct is to chase.

If you're with others, stay together and act as a group.

Face the animal and talk firmly while slowly backing away.

Always leave the animal an escape route.

Do not crouch down or try to hide, instead try to appear larger.

Do not take your eyes off the animal or turn your back.

If the animal does not flee, be more assertive by shouting, waving your arms and throwing anything available.

How to make a property uninviting - Eliminate sources of food
Do not put meat, fish or other attractive foods in your composter.
Frequently wash garbage cans, recycling containers and their lids with a strong-smelling disinfectant.
Do not leave garbage cans outside overnight.
Secure garbage lids, clean up spilled garbage and do not leave garbage around a campsite or cottage.
Empty the grease trap from barbecues.
Feed pets indoors.
How to avoid conflicts
Consider motion-sensing lights to light all walkways around your home.

Watch for signs of animal activity such as tracks, claw marks and droppings.

Make noise as you travel through the woods - talk, sing, carry a radio.

Travel in groups.

If hiking alone, tell someone where you plan to go and what time you expect to return.

Keep dogs leashed so they do not provoke attacks by wild animals.

For more information on lynx encounters please visit: https://www.ontario.ca/page/preventing-and-managing-conflicts-lynx-bobcats-and-cougars
Should you see a lynx in a residential area and you believe there is a risk to the public, you are urged to call the OPP at 1-888-310-1122 or by dialing 911 if it is an emergency situation.

Wednesday, August 2, 2023
The Third Canadian Ranger Patrol Group (3 CRPG) will host its highly anticipated summer Camp Loon later this month that organizers hope will provide an unforgettable experience for Ontario's Junior Canadian Rangers (JCRs)...