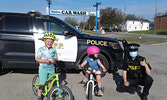 Sioux Lookout OPP, Fresh Market Foods partnering to present positive ticketing program
Reeti Meenakshi Rohilla -
Staff Writer
Ontario Provincial Police in Sioux Lookout and Fresh Market Foods are once again partnering to reward kids for practicing safe and community minded behavior through this year's positive ticketing program.
"The Sioux Lookout Ontario Provincial Police (OPP) are proud to be partnering once again with Fresh Market Foods for this year's positive ticketing program. When Sioux Lookout OPP officers observe youth exhibiting safe and community-minded behaviors while out on patrol, they are able to reward the youth with a special 'ticket'. This ticket can be redeemed for a small ice cream or slushy from Fresh Market Foods. The program serves to initiate relationships between youth, their communities, and local businesses, by thanking young people for their safe behaviors," shared Sioux Lookout OPP Community Safety / Mobilization Officer, Constable Andrea DeGagne.
Liz Ward, Human Resources Manager at Fresh Market Foods, said that they are sponsoring coupons for a free slushy or a free small soft serve ice-cream that kids will receive from the OPP as an incentive for them to maintain safe practices while riding their bikes. She added that this program encourages kids' interaction with police officers, and has been a supported cause by Fresh Market Foods for several years now. "I think it gives them (kids) an opportunity to meet with police officers in a fun, friendly way, and they get rewarded…its just kind of a fun for everybody thing," Ward added.
DeGagne shared that this year's program will be focusing on bike helmet safety, offering a helmet to kids that do not have one. "This year's program has a focus on bike helmet safety. During last summer's positive ticketing campaign, officers reaching out to young cyclists found that most of the youth who were not wearing bike helmets while riding did not have a helmet available to them to wear. This summer, the OPP are running a helmet campaign, to identify youth who don't have access to a properly fitted helmet and ensure that everyone has the resources they need to ride safely," she shared.
Officers will be distributing helmets donated by The Sioux Lookout Attendance Centre as part of the Positive Ticketing Program this summer. DeGagne shared, "The Sioux Lookout OPP are very grateful to have community-based partners who support outreach efforts, and assist police in rewarding positive behavior among youth, preventing crime and strengthening relationships in our community."
Anyone who may like to refer a youth for inclusion in the helmet campaign is encouraged to reach out to Constable Lee at the Sioux Lookout OPP detachment at 807-737-2020.